IDC: Wearables industry surged in Q3 with soaring popularity of hearables
The International Data Corporation (or IDC) released a new report for the third quarter of this year, focusing on the increasing popularity of products falling under the wearables category of consumer tech. This year, the industry saw a massive growth of 94.6% for wearables in Q3 compared to 2018's third quarter.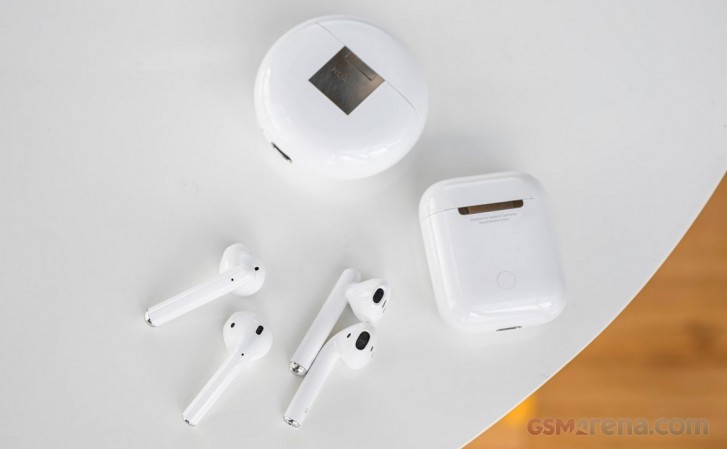 Huawei Freebuds 3 next to 2nd-gen AirPods
Most of the growth is attributed to an expanding category of "hearables" which refer to wireless earbuds, most popularized by Apple with the every-growing trend set by AirPods and all the look-alikes from other companies.
Hearables have become the new go-to product for the wearables market… This began with multiple vendors removing the headphone jack from their smartphones, driving the move toward wireless headphones. It continued with hearables incorporating additional features that either augment or expand the audio experience... Finally, prices have come down significantly, with some reaching below $20. – Tamon T. Llamas, Research Director for IDC Wearables
Apple is the world leader in market share in the wearables category, delivering 29.5 million units in Q3 of this year compared to 10 million in Q3 2018 with impressive YoY growth of 195.5%. Apple took 35% of the market share pie this quarter. Apple Watch sales have been consistently strong and AirPods popularity has steadily surged in the last year.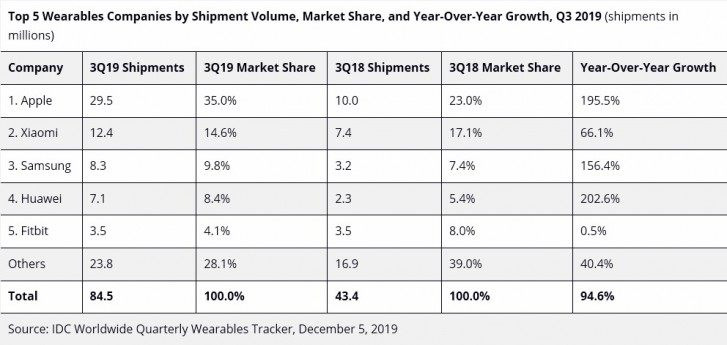 Xiaomi holds the number 2 spot for the category, seeing 66.1% growth YoY with 12.4 million shipments for this quarter and a 14.6% market share. Samsung comes in third with 9.8% market share thanks to 8.3 million units shipped compared to 2018's 3.2 million units shipped in the same quarte from 2018.
Huawei is just behind Samsung, catapulting from 2.3 million units last year to 7.1 million in this year's Q3. It took 8.4% of the market pie this quarter with Fitbit claiming the number 5 spot. Though it has a top spot, Fitbit didn't see any growth this quarter and it also seems to be the only wearables company that doesn't sell hearable devices yet.
The report offers a breakdown of exactly what sub-categories within wearables are seeing growth. As mentioned earlier, earbuds and headphones are gaining a lot of traction as the industry catches up with smartphones coming without headphone jacks. A total of 40.7 million shipments were seen in Q3 compared to 11.8 million in the same quarter last year.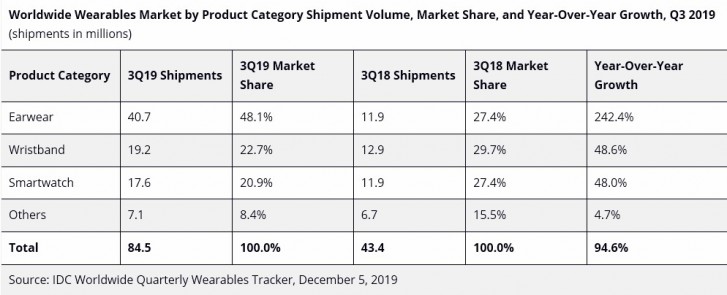 Both fitness bands and smartwatches saw growth in the same amount of time, though not considerably as hearables. 19.2 million fitness bands shipped with 17.6 smartwatches in Q3 of this year, that's compared to 12.9 million fitness bands and 11.9 million smartwatches in 2018.
Looking forward, we anticipate the segment growing even more as more brands release hearables with enticing features like noise-cancellation and integration with Google Assistant or Siri. Apple is expected to drop the price of Series 3 Apple Watch, which should drive even more sales of the popular smartwatch.
YaY i am happy that te stupid jack era and hearables with jack are going to real of forgotten. There is no place and space for such ancient analog devices.
T
Had a Bip Watch and the Mi fit app was creating a folder named "tencent" with log data, which you can't read. I think you know about Tencent at this point. I experienced it myself; if you buy chinese, you are being spied on...same goes for Apple, but...
?
I got Mi Band 4, loved it, decided to upgrade to Amazfit Bip Lite. Even better, now I'm thinking of getting a Mi Watch. These devices are really useful especially for time essential tasks. Nothing can replace my Sennheiser headphones thoug...
ADVERTISEMENTS