IFA 2012 has been a lot of fun and it still is for everyone who's going to attend it this week. However, with the announcements over, our job was over too and we are back to the daily grind in the office.
Now is an appropriate time to take look back at the exciting previous week and make a quick recap of everything that happened at this year's IFA.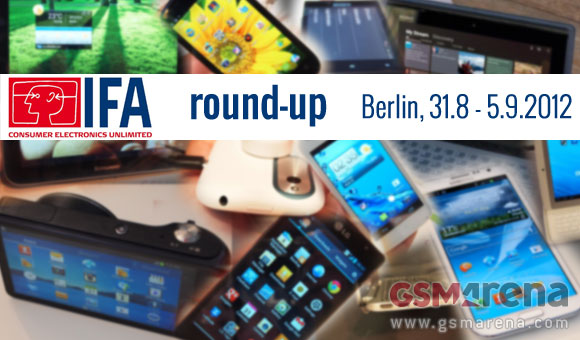 Samsung
Let's kick this summary off with Samsung, as it was the company that made the most important product announcements (in our line of work, at least.) At an almost 2-hour long press event we saw the revealing of the eagerly anticipated Galaxy Note 2, which stole the show. Make sure you check our Galaxy Note II preview, if you have missed it over the weekend.
Rather unsurprisingly, Sammy also unveiled the Galaxy Camera, which as it happens, touts an impressively beefy touchscreen on the back covered by Corning's Gorilla Glass 2. Don't worry, we didn't miss to give this Android-powered camera the extended hands-on treatment as well as show you a hands-on video.
Samsung also made quite a lot of stir in the Windows 8 space with the first ever Windows Phone 8-running smartphone, the Ativ S. It was joined by the reveal of three tablets with keyboard docks - Ativ Smart PC, Ativ Smart PC Pro and the Ativ Tab, which we explored on video. If you happen to have some popcorn ready, you can sit back and enjoy the full Samsung IFA 2012 press event here.
Sony
The next big player to take part at the IFA show was Sony. The Japanese giant announced its new Xperia smartphone line-up, consisting of the Xperia T (hands-on, camera samples), Xperia TX (hands-on, camera samples), Xperia V (hands-on), and Xperia J (hands-on). You can watch their promo videos over at our blog.
Sony also announced two tablets - the Android-running Xperia Tablet S (hands-on) and the Windows 8 powered Vaio Duos 11 (hands-on). Another interesting surprise was the company's new mirrorless camera, the NEX-5R (hands-on).
LG
Next up is LG, which unfortunately, hadn't brought the quad-core Krait monster Optimus G, but instead offered the consumers to take a glimpse at the Optimus L9. We had a short meeting with it as well.
HTC
HTC chose to remain under the radar too, and had only its latest member of the Desire line-up on display - the Desire X. Check out its live photos and hands-on.
Acer
Acer announced three new ICS-powered Android smartphones, the Liquid Gallant (hands-on), the Gallant Duo as well as the Cloud Mobile (hands-on). In the tablet segment, the company showed us the about to be released Iconia Tab A700 with FullHD screen (hands-on).
Lenovo
The Lenovo booth was all about tablets. On display were the 7-inch IdeaTab A2107, 9-inch IdeaTab A2109 and the 10-inch IdeaTab S2110. Yes, we managed to get our hands on all three of them.
Toshiba
Toshiba decided to offer a different approach on the tablet market and instead of a hybrid tablet, announced a convertible one. It's dubbed the Satelite U920T and you can take a look at its live photos and hands-on.
HP
HP also took part and showcased its latest tablet hybrid - the Envy X2 (hands-on), but sadly didn't offer anything else interesting. Alas, Archos didn't do anything different and unveiled yet another tablet hybrid dubbed the Archos 101 XS (hands-on).
ZTE
Last, but not least, ZTE announced their first Intel Atom-powered Android smartphone. The ZTE Grand X IN is a rare breed, indeed. Check it out in our hands-on.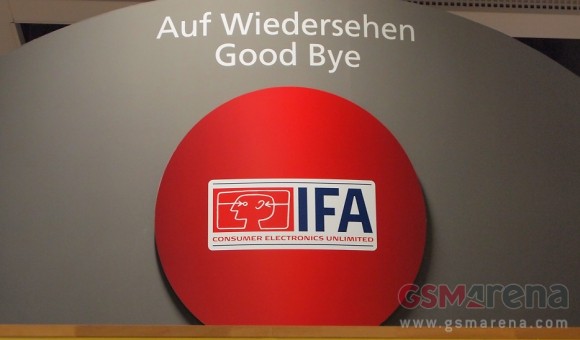 Without a shadow of a doubt, this has been IFA's strongest year in the mobile space. However, we are yet to see even more exciting stuff really soon as Nokia and Microsoft are preparing a special event on September 5 to announce the Finns' newest Windows Phone 8 smartphones. Motorola and Apple are next to be writing the headlines in the coming weeks with the announcements from both companies imminent.
c
It looks like does have a led notification system
w
wasn't panasonic supposed to present at IFA? a new Eluga device?
?
Did you completely miss Huawei?
ADVERTISEMENTS