With the latest annual IFA trade fair coming to a close, it's come time for us to wrap up our own coverage.
But before we say goodbye to Berlin for yet another year, let's take a look at all of the new mobile announcements that took place in Germany's largest trade show.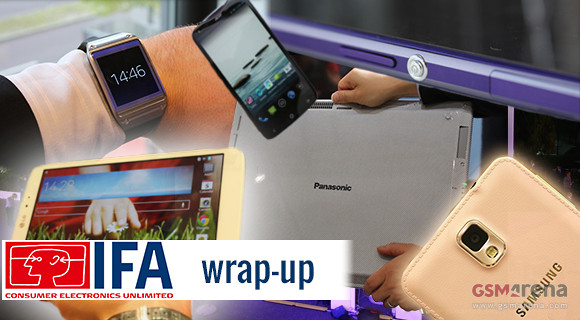 Samsung
Samsung's update of its Note line came as a surprise to no one, the updated hardware design of the new Galaxy Note 3 phablet, however, did. The Galaxy Note 3's imitation leather back panel was the talk of the town, and it really feels like the real thing. Check out our coverage of the UNPACKED announcement event here, complete with a 3-page hands-on of the Note 3.
Another surprise was the announcement of the Samsung Galaxy Gear - a 1.64" smartwatch that could end up triggering a whole new market of tech devices. The Galaxy Gear is meant to be a companion device to the newly-announced Note members, and can be configured to start calls, read SMS message, and even locate your Note from a distance. Be sure to check out our Galaxy Gear hands-on.
Finally, Samsung dropped its numbered naming convention with the latest Note tablet, calling it the Samsung Galaxy Note 10.1 2014 Edition (hands-on). The largest improvement is the 2560 x 1600 display resolution for its 10.1" screen, complete with slimmer screen bezels.
Sony
Despite the countless number of leaks it had prior to the show, the new Xperia Z1 aka "Honami" flagship from Sony still had many people talking about its slick design and IP58 water and dust-repelling certification. We were able to get our hands on it, and even snap a few photos and videos with its impressive 20MP camera. Check them all out here.
Sony also outed a pair of camera lens attachments that enable you to get a capable lens and sensor for your smartphone. Take a look at the QX100 and QX10 here.
Finally, Sony also showcased its own SmartWatch 2 companion device, which attaches to smartphones via NFC and Bluetooth, enabling you to see notifications and incoming messages without having to pull out your phone or phablet. Take a look our hands-on.
LG
Although it was revealed before IFA officially went underway, LG gave the G Pad 8.3 an official announcement at the show. Although the 8.3-inches may sound like a lot, the tablet handles comfortably in a single hand, and has great build quality thanks to an aluminum unibody and an impressive 1920 x 1200 display. Go here for more on the G Pad 8.3.
Acer
Acer was among the first manufacturers to get the IFA festivities under way with its new Liquid S2 flagship. Outed as the first smartphone with 4K video recording, the great build quality and impressive specs sheet marks Acer's entry as a serious player into high-end smartphones. Go here for our hands-on.
Asus
Asus made its presence felt with updates to its tablet ranges across the board. Go here for our full coverage on the 10.1" Transformer Pad TF701T, 8-inch and 10-inch variants of the MeMO Pad refresh, and the Fonepad 7 and Fonepad Note 6.
Lenovo
Lenovo announced several nice-looking devices at this year's IFA. The Vibe X is a very slick smartphone, with a slim 6.9mm waistline, stylish glossy metallic accent running along the perimeter, and 5" 1080p display.
The S5000 is a 7" tablet made after the Vibe X, featuring similar design elements. It's not as thin as the Vibe X, and features a lower-resolution WXGA screen, which is also quite reflective.
Finally, the Yoga 2 Pro convertible ultrabook was also debuted at IFA, featuring the same 360-degree hinge while coming in lighter and thinner than its predecessor.
More info on all three devices can be found in our Lenovo IFA hands-on.
Archos
Several new tablets were introduced by Archos - the 10.1" Archos 101 XS 2, 9.7" Archos ChefPad, and 8" Archos 80 Xenon. For a look at all three, go here.
Alcatel
The One Touch Idol Alpha was Alcatel's most notable offering, with its curved aluminum unibody, 7.5mm frame and transparent LED strip below the display.
Panasonic
Last but not least, Panasonic outed a massive 20" Windows 8 tablet, boasting an impressive 4K screen resolution of 3840 x 2560, complete with Anoto Live Pen stylus support. Check out the hands-on here.
D
What are you talking about??? You think I am an isheep? LOL! It was actually a bad comment for both iphone and z1. They both have huge bezels, look at G2 and Note 3
D
Sony stole the show causing much hate and jealosy around.