iFixit praises repairability of Mac Pro in its teardown – 9 out of 10
There is a fair number of YouTube rant videos expressing frustration at Apple for locking down its products, making it nearly impossible for the customer to perform their own repairs. With the newest Mac Pro, Apple has strayed away from the "trash can" tower for a larger (and I mean, much larger) tower setup with endless options for expandability.
The folks over at iFixit have torn down the new Mac Pro (yeah, the cheese grater) and have praised it for how easily it is to access the internals, perform hardware upgrades, and most of it can be done without using any tools.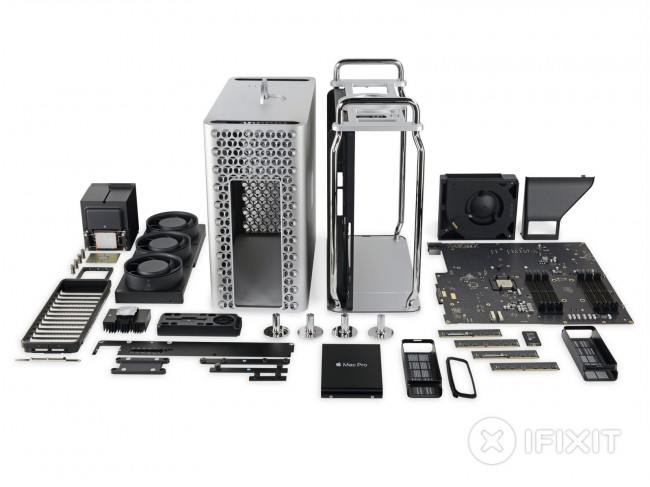 Source: iFixit
A simple turn of a handle unlocks the enclosure, which slides up and out towards the top of the tower. A nifty feature of the housing is that it will remove power from the machine when the housing is displaced.
RAM can be replaced by removing a cover by using a mechanical switch, there's even a diagram under the cover that shows you where to insert RAM modules. Note that up to this point, zero tools were required. The iFixit team couldn't believe it. There are also guides that Apple provides for repairs.
Most of the parts can be removed from the case without tools via thumb-screws and eject-switches. The only parts that you'll need tools for are the feet, which are held in by a 4mm hex head, the power supply is held in by a single T8 Torx screw, and the CPU is held in by deeply hidden T15 Torx Plus screws.
The only major downside to repairability of the Mac Pro is that the SSD modules are proprietary and custom-made by Apple. These modules are secured to the Mac Pro they are installed into, so to upgrade internal storage, you'd need to either configure it with more storage or upgrade it through Apple. Otherwise, since its pretty easy to disassemble the Mac Pro, this setup could be meant to deter data thieves from accessing stolen data after popping out the SSD module.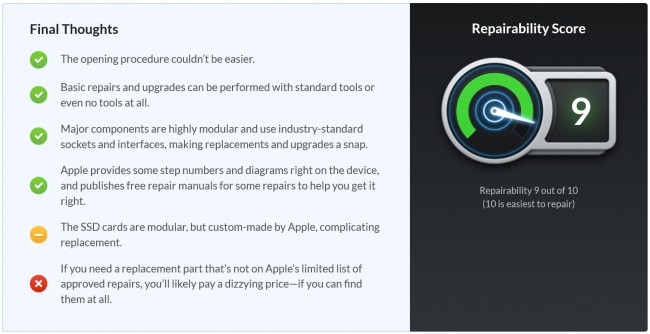 Source: iFixit
Check out iFixit's full teardown at the Source link below.
s
definitely a different world. from your comment i thought you already had the processor pat and the ram was the issue. either way, point still remains valid - custom builds are still far better value for money than this. still its your money an...
g
it's not only about ram, is mostly about the processor. for instance xeon's have inbuilt autocorrection procedures the i's and ryzen's series are missing. for everyday calculation i use an 1.2k euros / 15.4" / i9 / 32g ram / 4g video ram pc but for t...
s
just get something with ecc ram. still doesn't make sense to get this one. or run it on a cloud pc. still cheaper and works out better.
ADVERTISEMENTS