Rumors of a Windows RT powered Nokia tablet have been going around since at least March last year and a potential slip-up at a Nokia event in Pakistan will only fuel that fire. An image shown during the presentation featured a Windows RT tablet sandwiched between a Nokia Lumia 620 and a desktop monitor displaying the Windows Start screen.
Measuring the ratio of the Lumia 620 screen and the unknown tablet, we arrived at around 11.6 inches screen diagonal. That's a fairly popular diagonal for Windows RT tablets.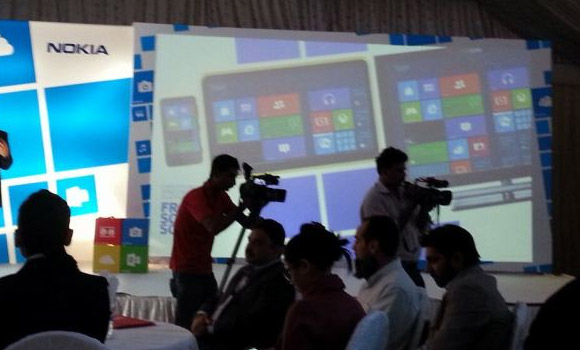 Nokia has literally bet its house on the Windows ecosystem succeeding, so a tablet might help push things along. Microsoft is quiet on Surface RT sales, but with Nokia having established itself as the Windows Phone maker, it might have better luck selling a Windows slate.
According to a rumor from December last year, the Nokia tablet will have USB and HDMI ports plus a sheet battery with two extra USB ports and a kickstand. The MWC is fast approaching and it might be the launch venue for the Finns' first tablet. We'll be there, holding a pinch of salt.
Thanks to Swapnil for sending this in!
D
Let's see how well it goes in Pakistan
ADVERTISEMENTS