The Xiaomi Redmi 4 has sold over 1 million units in India, the company just announced. It took 30 days, two weeks less than the Redmi Note 4 needed to reach the same milestone.
So, India now has a new record for fastest phone to reach a million sales. The Redmi 4 got to a solid start, selling a quarter of a million in the first 8 minutes of sale alone. It had to take a break after as Mi.com ran out of units, but availability issues have been cleared up now.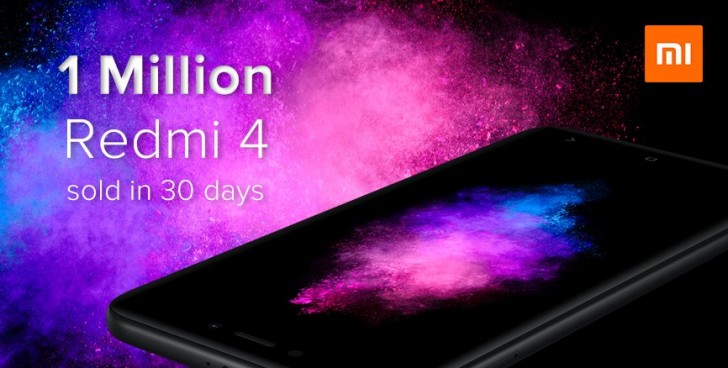 Congrats to the Xiaomi team! If you feel like joining the million Redmi fans, head to Mi.com and grab one – the Redmi 4 starts at INR 7,000 (2GB+16GB) and goes up to the recently released INR 11,000 (4GB+64GB).
A
True value for money Great job to Xiaomi team and keep going to offer great devices with excellent combination of hardware & software in reasonable price I want next gen of Xiaomi 4 as Xiaomi 4 Plus with full HD screen with "same design" and...
?
Seriously, the Redmi 4 will actually last longer than most flagship phones from Blackberry, Samsung, Apple and Microsoft. The reason? Well, #1. It has 4100mAh battery. Batteries lose capacity over time and by the time the battery reaches 50% of it...
D
At least that was a flagship phone, Redmi/Note series is trash.