IDC put out a new report, stating that India continues to be the fastest growing Asia Pacific market for smartphones. The Q3 smartphone sales saw a growth of 82% over the same period of 2013.
The data also mentions a quarter-on-quarter growth of 27%. This exponential growth has largely been boosted by the festive demands.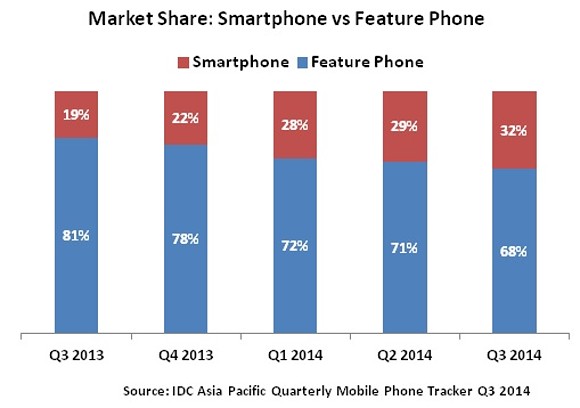 There are also a number of other reasons that have played a crucial part in forming the favorable statistics that exceed every other market in the Asian Pacific region in terms of growth. Karan Thakkar, senior market analyst at IDC India, puts a lot of emphasis on positive customer attitude toward the market and mostly the existing low levels of inflation.
He believes, that these are the needed ingredients to ensure a fast paced and quickly refreshing device market. When the intensifying push towards 4G is added to the mix, Karan predicts an even greater spike in demand, reaching upwards of 80 million units in 2015.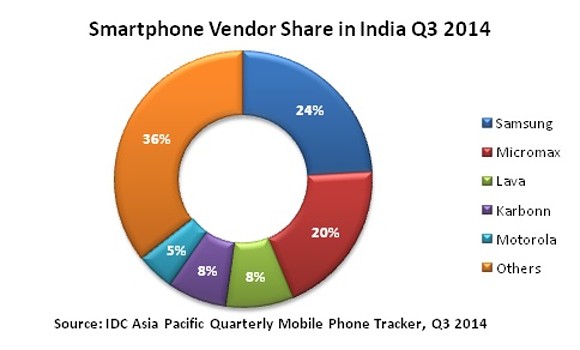 Another peculiar trend, identified by the same researcher is a possible rise in interest towards phablet devices, which the IDC defines as having a screen size between 5.5 and 6.99 inches. At current their overall market share in India is pretty low and constant at 6%. Consumers still regard smartphones with screens between 4.5 and 5.5 inches as the ideal everyday device. Karan, however believes that richer media content and faster data connection will bring about a need for higher resolution and bigger screens and definitely sees this type of hardware making a return.
Source
|
Via
D
Honestly micromax is hopeless company I had suffered lot, worst product with world's worst after sales service,
D
Internet tariff should be reduced in India as someone says here!!!
S
India the land where growth is huge. Give it 5 years and the labour cost will be a bit higher and the entire west will drop India like a bag of rice. I prefer China's growth. At least they have a government which goes a certain direction.