Indian version of Poco X3 surfaces with 8GB of RAM, launch expected on September 22
A new, slightly upgraded version of the Poco X3 NFC has surfaced on the Google Play Console, this one apparently preparing for a launch in India on September 22. The code name of the new model is "karna" and its retail name notably lacks "NFC" (which doesn't necessarily mean that the feature will be omitted).
The Console lists the chipset as Snapdragon 730, though a quick trip to Geekbench shows that the "karna" scores on par with the "surya" (the code name for the current Poco X3 model). This means it uses the same Snapdragon 732G chipset, which is just an overclocked version of the 730, so it's easy to misidentify by software detection.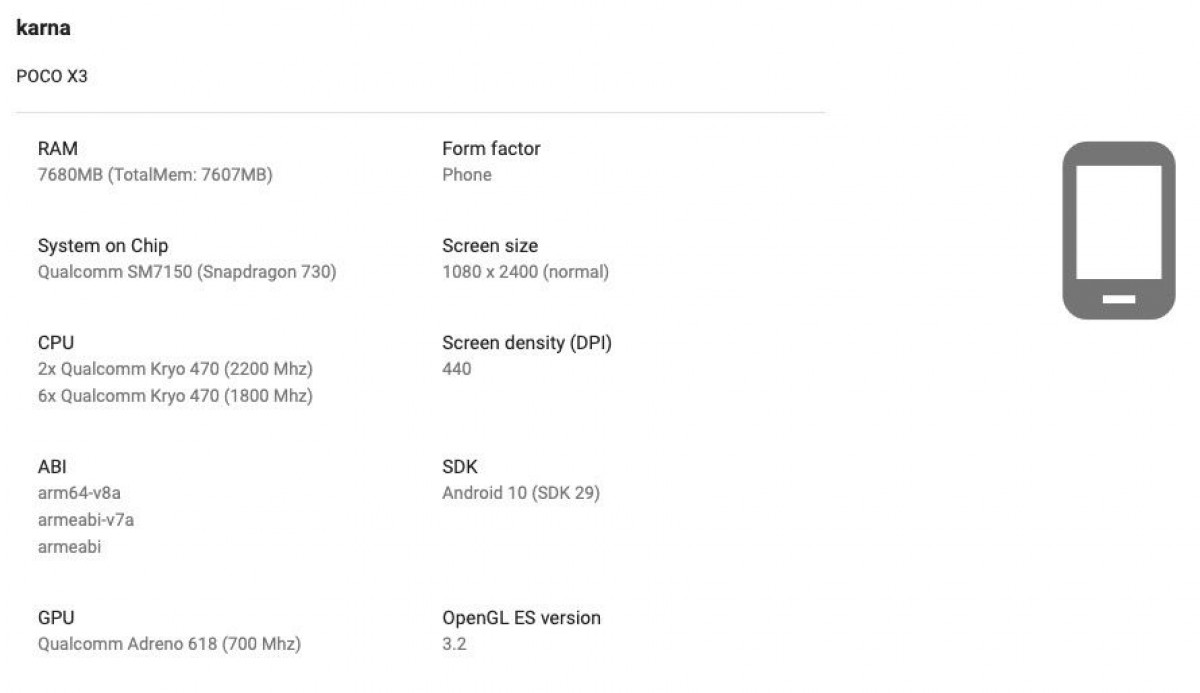 RAM capacity is interesting to note here – 8 GB. The current X3 is available in two configurations, both with 6 GB (the difference between them is storage). Leakster Debayan Roy claims that the battery will be slightly larger than the 5,160 mAh power cell of the global phone.
The rest of the features should be unchanged, so you can read our review for more details (keeping in mind that the battery endurance may change).
Anyway, Roy puts the price of the Indian Poco X3 in the INR 19-20,000 range. This is in line with the original pricing of its predecessor, the Poco X2 – actually, it's a bit cheaper since the X2 came with 6 GB of RAM as standard (with 8 GB as an option). It matches the global pricing of the X3 as well.

The global Poco X3 NFC has been selling through AliExpress (which moved 10,000 units in 30 minutes). The Indian version will likely be carried by a local retailer, but none has stepped forward yet.
ADVERTISEMENTS