Android is the new Windows Mobile when you want to take an OS and slap it on with your own custom interface. Allegedly, Motorola is readying a new Android UI and their rumored Motorola Morrison finally got some specs to look at. The hardware specs seem to put it in the same ring as the other Android-powered devices.
The Motorola Morrison will have a 528MHz CPU and 256MB RAM (the Hero has 288MB), the screen is HVGA - 320 x 480 pixels - practically all Android phones use this resolution. The autofocus camera has 5 megapixels resolution. Wi-Fi, Bluetooth and GPS are covered too as well as smaller goodies such as accelerometer, 3.5 mm audio jack, microUSB port, proximity and ambient light sensor. The internal memory is expandable by microSD cards up to 32GB.
What really sets the Motorola Morrison apart is the side slide-out QWERTY. So far the specs claim only a QuickOffice viewer, but that keyboard would be a huge plus if Motorola goes for an editor instead just a viewer.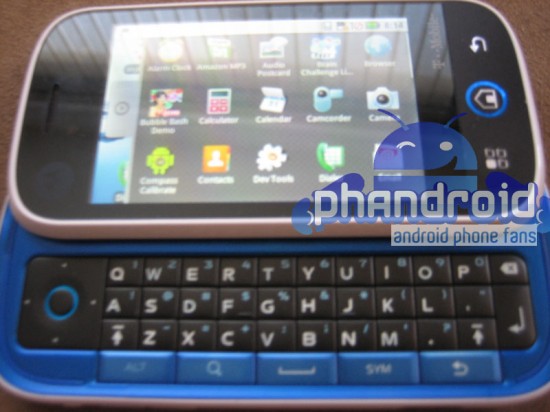 Motorola Morrison running vanilla Android (photo: Phandroid)
It seems that the new Android Morrison will run on a new custom Android UI developed by Motorola and called Blur. Heavily web-oriented, it will give users quick access to popular sharing websites. No surprise, Android is quite a web-oriented platform to begin with, but Motorola is adding a touch of social networking - combining your personal contacts with info from social networking sites, a la WebOS (HTC did it too with Hero's Sense UI to some extent). The OS will be upgradeable over the air but more importantly it seems that it will feature push updates.
It's not a giant leap of faith to think that the Motorola Morrison will run this new UI and the Heron (headed to AT&T) is a likely candidate too - it's the one that is undergoing an interesting "sex change" - from Windows Mobile to Android.
The Morrison is rumored to come out on 21 October with specs indicating quad-band GSM support and tri-band 3G but in two versions - 900/1700/2100MHz and another one at 900/1900/2100MHz.
Source: BoyGeniousReport, AndroidAndMe
a
d-pad at left just so normal for gamers..new for phone but i think its interesting. not TOO conventional. moto doesn't really like to play safe like others (making iPhone like phone).
J
Read news: Sony Ericsson Needs 100 Million Euros to Survive. Sony Ericsson Expects $500 Million Loss After First Quarter Sales. Go and look for that in Google
j
If people nowadays want to get the best feature phone, then why do low-end phones still outsell their better brothers? Ironic, isn't it?
ADVERTISEMENTS