HTC's latest flagship is already up for preorder in a few countries, including the UK and Germany, but naturally, the all-metal unibody smartphone was set to debut first in its home market.
A few days ago we reported that the first batch of units was going to be dispatched to eager users today, March 16, but sadly, HTC has missed the deadline. According to various reports, the Taiwanese manufacturer has delayed the release because of an urgent software update the handset must receive before launch.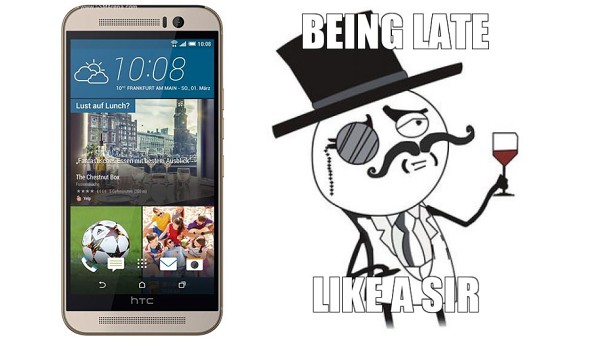 How urgent you ask? Well, one rumor states that the alleged software bug may cause a boot failure on the One M9, so, naturally, HTC has opted to address the issue before launch. Whether or not this is true, is hard to tell, but it is a fact that the company has missed its March 16 home market shipping date. Some impatient customers, who have already payed for the flagship are reporting that the official statement they are receiving are for a delay of a couple of days to a couple of weeks.
So, really, at this point the release date is Taiwan has been changed to "as soon as possible". Now, while this is probably going to affect the upcoming 64GB version of the handset on the home market as well, hopefully the setback won't push the shipment date for EU markets, which is currently set for some time around the end of the month.
Hopefully, this whole ordeal turns out to be the better course of action and doesn't end up disappointing eager fans.
D
HTC = Highly Trolly Company.
D
LG is the first dual-core producer! Get your fact straight! HTC just did nothing!
D
Rumour says the Z4 is doing away with Micro SD as well.
ADVERTISEMENTS