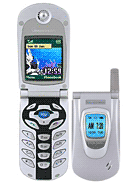 d
Anonymous, 21 Jan 2005dont buy this phone i bought one from the company and while i was charging it, the battery exp... morecool :))))
b
pls dnt buy dis particular fone if u stay in nig.cos if u wnt 2 aktivate d wap settings it wud tel u unsupported msg
?
dont buy this phone i bought one from the company and while i was charging it, the battery exploded,it nearly burnt my room.
b
a very good phone better more work has to be done in items of popularity so that people will know how good the phoneis
Total of 10 user reviews and opinions for Innostream INNO 100.