After many rumours and gossips, the first ever devices to have their whole UI wrapped around Facebook are finally here. Today INQ revealed the Cloud Touch and Cloud Q - two full-bread Anrdoid 2.2 Froyo-running phones.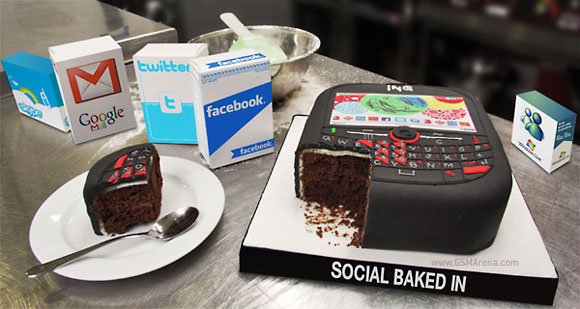 The INQ Cloud Touch and its QWERTY brother share the very same specifications. The brain of the devices is a reasonable Qualcomm MSM7227 SoC with a CPU clocked at 600Mhz.
The Cloud Touch features a 3.5-inch capacitive touchscreen with a resolution of 320x480 pixels and 4MB of internal memory (what!?). Oh, it's expandable via a microSD card slot and a 4GB card will be included in the package. Sigh!





Live photos of the INQ Cloud Touch, courtesy of PCMag.com
As any droid, these two are fairly well connected. With a tri-band HSPA and quad-band GSM and EDGE support, the INQ Cloud devices also sport Wi-Fi, Bluetooth and GPS. They come with a bag full of sensors, including one for ambient light, another for proximity, an accelerometer and a compass. INQ has thrown a 5MP snapper into the mix, too.
INQ promises their new social phones will enjoy a Gingerbread update some day in the future, they but didn't pin down with a specific timeframe.
The inspiration for the design of the handsets reportedly comes from the Stromtroopers of Star Wars and the WALL-E's loved one - Eve. Obviously the two INQ Cloud phones have a pretty targeted audience – teenagers and young people who can't bear to stay 5 minutes away from the social network.





Live photos of the INQ Cloud Q, courtesy of PCMag.com
The user-interface is so closely tied in to Facebook, that at first sight you wouldn't notice it's based on Android.
The UI is actually the first one to use the new Facebook Social Graph API. With its help, the installed widgets will intelligently show you the latest news, events and interesting things your peeps are sharing based on the stuff you're currently into.
Also, as part of the experience, INQ has ditched the standard Android music player, and will use the Spotify app. If you are premium user, it'll allow you to stream music on the go, and if you're not – it acts like a normal music app.
Prices are expected to be ultra-competitive around the $250 off-contract mark with 3 phone colors to choose from (black, white and red). The handsets will be available some time in Q3 in the UK first with other markets to follow soon after that.
Q3? Are they for real? It's going to be a loooong wait.
s
i also want some of the cake...
?
someone will eventually dump the rom and extract the GUI alter it to lite version n distribute to all Froyo & Ginger user. Then wat's the point of buying the phone anyway?!
ADVERTISEMENTS