Recently Facebook has been adding new features to Instagram every few days or so, and this trend isn't stopping. The latest things to be built into Instagram are stickers. It's actually quite shocking that it took Facebook this long to put stickers into Instagram, considering its ongoing quest to make its photo-centric social network the perfect Snapchat alternative.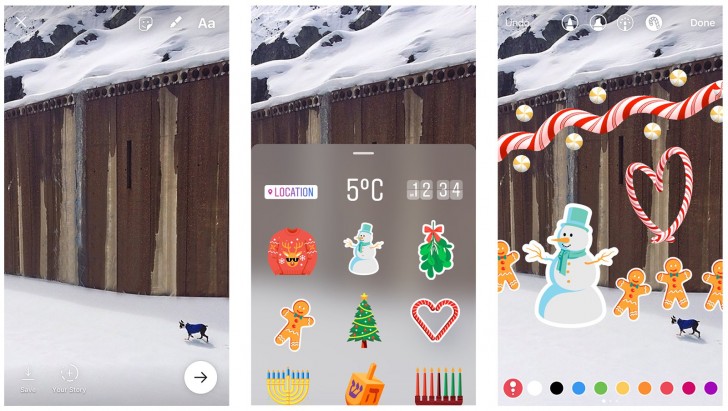 But anyway, they're here now. You can use stickers in your Instagram Stories, adding context to your photos and videos. After you've finished your capture, a new Stickers button will show up next to the text and drawing tools. You have options for stickers based on your location, the time, or the weather. You just choose or search for your location and apply the desired stickers. The people who see your story will be able to tap the sticker for more information about the location.
As you'd expect, you can move stickers around, make them bigger or smaller, and choose from different styles. The number of stickers you are able to add to a story is limited only by your imagination. And for the next few weeks there's a special holiday themed sticker pack included.
Finally, the new 'Hands-Free' option in the format picker lets you start recording video with just one tap, and you can add as much text to your photos and videos as you want. All of these features are part of Instagram 10.3, rolling out now on Android and iOS. On iOS alone, your entire story from the past 24 hours can be saved to your camera roll as one single video.
?
I agree. Burn it all! I dont even use Facebook. HAHAHAHAHHAHA!!!
N
Now Instagram is totaly ruined. Burn in hell M.Z.