Instagram begins rolling out support for multiple accounts on Android
Tipsters over at Android Police have reported that the Instagram app version 7.12.0 on Android has begun supporting multiple accounts on one device. This is a big deal as Instagram has been in existence for more than 5 years since its initial release and has not had any official support for multiple accounts up until now.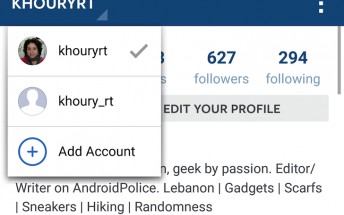 Source: Android Police
It seems that not everyone who downloads the newest version of the app will immediately get the feature. Perhaps it is being rolled out in stages although Instagram hasn't commented on the matter.
If you are one of the lucky users, you should see an option to "Add Account" right under the "Clear Search History" option all the way down the settings list. You can add or create an account to use alongside another account already logged in.
Apparently, there is no sign of this feature on iOS even with the same version 7.12.0. This could be due to a couple of factors like the individual device or account status of the rollout.
We weren't able to get the feature working but you can download the newest Instagram file from APK Mirror and let us know if you are able to add a second account to your Android device.
D
Dunno never bothered to check, if it doesn't then I'm sure another third party app does but I mainly care about the downloading and multi account feature. Either way I don't see them bringing this new one to the official WP app cause well it's a WP.
m
Google, Luis Vuitton, Nike, Samsung, eBay to name a few? Say every big company and i can assure you most of them has an Instagram account.