Instagram has become an immensely popular social app over the past few years and it is now cracking down on accounts with fake followers and removing likes and comments that were created by these third-party apps.
In a new blog post, Instagram says that it wishes for its users to have "real experiences and genuine interactions" and inauthentic activity like third party apps that artificially grow engagement isn't part of that experience.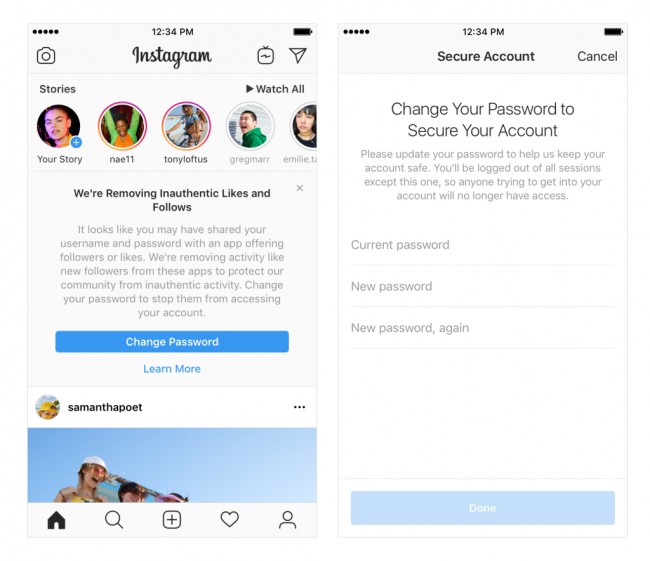 Instagram is using new algorithms that will help identify these accounts and remove the inauthentic activity including likes, follows, and comments that were artificially done using these apps. Instagram has already started alerting accounts that use these third-party services by requesting that they change their passwords to cease these apps' access to your Instagram account.
Giving third-party apps your Instagram information could also be risky and your information could be compromised. Even if you weren't aware that a third-party app still had access to your Instagram account, you'll still be notified to change your password.
Since the early days of Instagram, we have auto-detected and removed fake accounts to protect our community. Today's update is just another step in keeping Instagram a vibrant community where people connect and share in authentic ways.
Instagram says this measure is ongoing, meaning that it will continually notify accounts that are using artificial means of growing engagement.
Well man yes. Everything its fine unless you can spend 24-48 hours or more playing the games when you have time and noone bothers you. I can be only glad i am not addicted and never had an account on World of Warcraft othervise it could ruin me :-...
?
there's nothing wrong with that at all, gaming is like a happy pill for a lot of people, it takes away worries, problems and stuff that is making people feel down