Intel announces new 8th gen Core processor with AMD Radeon RX Vega M graphics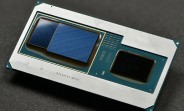 Intel has announced a new series of 8th generation Core processors with AMD Radeon RX Vega M graphics. This is a collaboration between Intel CPU division the graphics division at AMD, something no one really saw coming.
This new series of processors is designed for use within integrated systems, such as AIOs, notebooks and NUCs.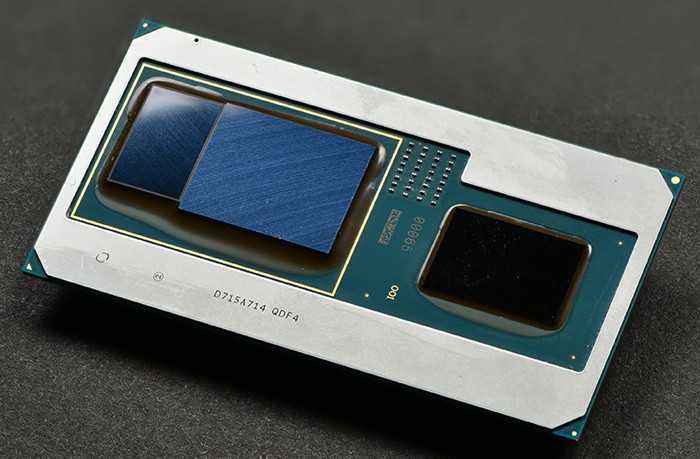 The processor consists of three parts, the Intel Core Kaby Lake-G series CPU, the AMD GPU and 4GB HBM2 VRAM. The GPU and VRAM communicate over something called Embedded Multi-Die Interconnect Bridge or EMIB, a high-speed interface designed specifically for this processor. The GPU and VRAM then communicate with the CPU over a x8 PCIe 3.0 interface within the processor. All of this is packed into a 1.7mm thick chip and that is less than the width of a credit card. This results in a motherboard design that can be much smaller as no longer the CPU, GPU and VRAM need to be spread across.
This series includes five individual parts, including the i7-8809G, i7-8709G, i7-8706G, i7-8705G and the i5-8305G. The clock speeds vary but all are four core, eight thread parts with with 8MB cache (except the i5, which has 6MB) and dual channel memory support up 2400MHz. The top two models (8809G and 8709G) have the faster Radeon RX Vega M GH graphics and the other three have the Radeon RX Vega M GL graphics. Apart from the discrete graphics, the processor still includes Intel HD Graphics 630. The top of the line 8809G part has fully unlocked CPU, GPU and VRAM for overclocking. Only the 8706G supports Intel vPro technology.
Between the GH and GL graphics, the GH has 24 CU, 1536 stream processors, 1063MHz base clock, 1190MHz boost clock, 204.8GB/s memory bandwidth and 3.7 TFLOPs of performance while the GL has 20 CU, 1280 stream processors, 931MHz base clock, 1011MHz boost clock, 179.2GB/s memory bandwidth and 2.6 TFLOPs of performance. Both have 4GB HBM2 memory. They are meant to compete with NVIDIA 1060 Max-Q and 1050 graphics, respectively, and of course, beat them in benchmark scores. The GH models have a TDP of 100W and the GL models have a TDP of 65W.
Intel also announced its most powerful and VR capable NUC in two variants, the NUC8i7HVK and NUC8i7HNK. The former is based on the i7-8809G model and the latter on i7-8705G model. Dell and HP have also announced new 2 in 1 notebooks based on these processors. We will see more products with this processor series later this year. Regardless of how it fares, I'm just amused I got to see an Intel-AMD combo product in my lifetime.
?
They are trying to sell their remaining stocks/the one's they had already made like this recent one before a overhauling the architecture and remove this hardware exploit completely..... It costs $$$$$$$$$
D
Now i can send my Commodore 64 to a very long vacation :-)
ADVERTISEMENTS