Introducing our Daily deals page: one place for the best phone deals
You may have noticed that we added pricing information for phones to our specs pages and reviews a while back. That information comes from a growing list of stores from several regions – but you still have to check on phones one by one. After covering the Black Friday deals we decided to create a single page with all the best deals we've found, even on days that are not global shopping holidays.
Introducing our Daily deals page. On it you will find great discounts on smartphones (and the occasional tablet and smartwatch). While the price info is gathered automatically, we hand-pick the best offers so it's a relatively small curated list.

You get the basics at first glance – the store, the price and the discount. The discount percentage is calculated based on the 30-day average price of the phone (or less for new listings). This is to stop retailers from gaming the system by raising the price one day and announcing a big drop the next.
In fact, you can see how the price has changed over time by hitting the Price History button. That will open a chart showing price movements (the dashed green line is the average). This extra panel also shows additional info, including the lowest and highest prices we've seen to date.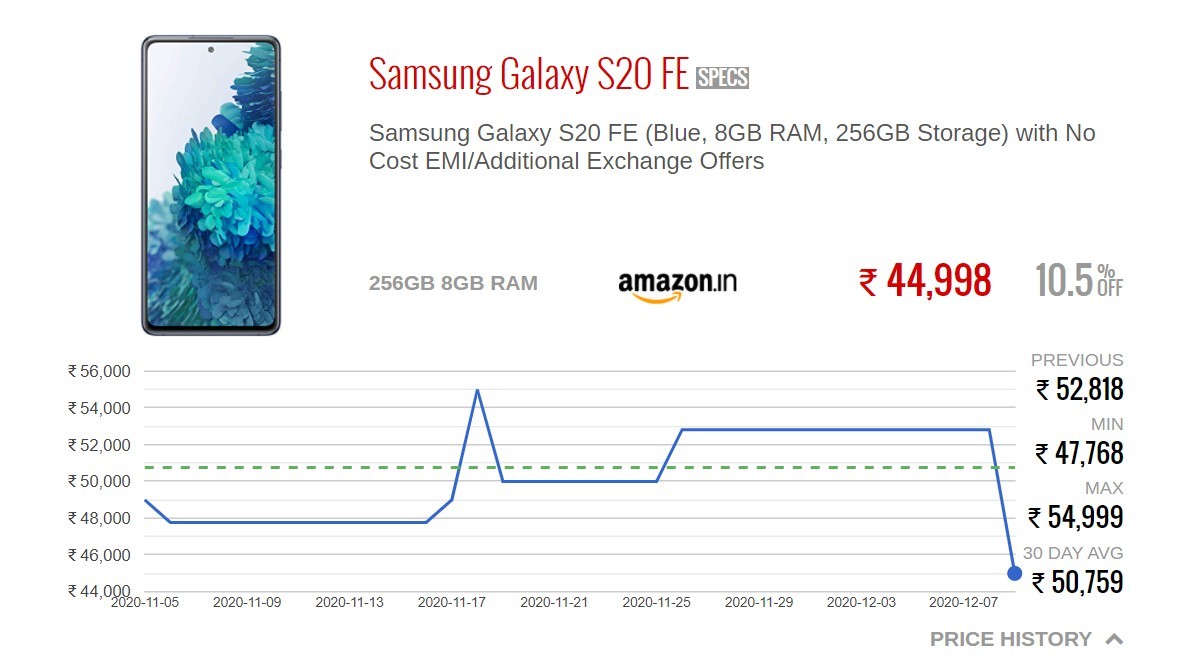 Our price tracker covers multiple regions, so we recommend using the dropdown to select only the regions relevant to you. This setting will be remembered for the next time you open the page so you only need to do it once (note: make sure to hit the Show button).

The deals on the page will change daily, so if you can't find something you like today, come back tomorrow. And if you do find something you like, keep in mind that the deal may not last very long.
Let us know in the comments what you think of the Daily deals page and if you ran into any issues.
?
GSMARENA should just the price of their Asus Zenfone 7 pro price of 749euro when the best price is 599 euro at French Multinational electronic retail Darty
q
https://www.darty.com/nav/achat/gps_communication/telephone_mobile/telephone_portable/asus_zenfone_7pro_256g_bk.html Asus Zenfone 7 pro is 599 euros in France at Darty shops for the holiday season. Normal price is 799 in France and 899 in Ireland.
F
Perfect, need to include more countries though. I am in Brazil, for example.