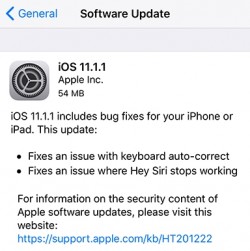 Today Apple has made iOS 11.1.1 available, the latest version of its mobile operating system. It comes a little more than a week after iOS 11.1. As the very small number incrementation shows you, it's not a big feature update, only a bug fixing release. It does however resolve two issues that are quite important.
First off, iOS 11.1.1 finally takes care of that weird auto-correct bug which prevented people from writing "I" by always changing "i" to "A[?]". This has been discovered not long ago, but it's one of those things that's incredibly annoying if you're unlucky enough to be affected.
Additionally, the new iOS version fixes another issue that made "Hey Siri" simply stop working. So while it's not packed with bells and whistles, iOS 11.1.1 is definitely a must-install release, especially for people who've ever seen either of the aforementioned bugs in person.
As usual, if you haven't yet received the update notification you should go to Settings > General > Software Update on your iPhone or iPad to initiate the process.
S
Apple's auto-correct has always been aggressive with its correction
a
Will this patch allows the iPhone X to work in cold weather?
ADVERTISEMENTS