Yesterday Apple announced iOS 12 and eager users are already combing through the beta to see all the features Apple talked about and many they didn't mention.
One feature of the latter sort is Set Up Alternate Appearance, under Face ID & Passcode. Its description is a bit unclear - "In addition to continuously learning how you look, Face ID can recognize an alternative appearance." - but the folks over at 9to5Mac have confirmed that it allows a second face to be used to unlock an iPhone X.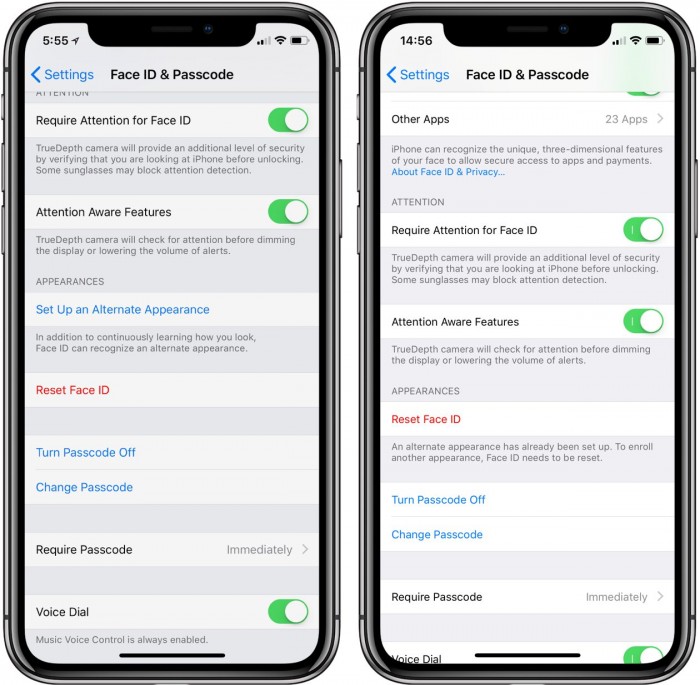 Some believe that the new feature has been developed for a future iPad that will forgo Touch ID in favor of Face ID but it will hopefully stick around on the iPhone X as well. Many Apple iPhone X users have been complaining that Face ID's single face support is limiting.
Once you set the feature up in the iOS 12 beta, you are not allowed to remove just one of the two recorded faces. Resetting Face ID will remove all the data Face ID has learned about your face over time.
There are a lot of iOS 12 features that Apple didn't talk about on stage yesterday but are noteworthy.
The app switcher now allows you to swipe apps away without the need to hold down on them first. There are automatic software updates now. The iPad gets iPhone X-like gestures. A new Password Manager API that allows you to fill passwords with 1Password. The battery usage chart comes with more information about battery usage. There is better portrait lighting. A new QR reader in the control center and much more.
T
So is this basically the x settings minus the features?
F
yes true ... its good that ios steal from android, and android steal from ios i don't understand why people complain
ADVERTISEMENTS