Along with the new iOS 13 features, there will be some changes that not everyone would like. Case in point the the CPU throttling "feature" that Apple introduced with the rollout of iOS 13.1. Another thing that might put you off is the notification that would appear in case you've changed your screen with a non-genuine one.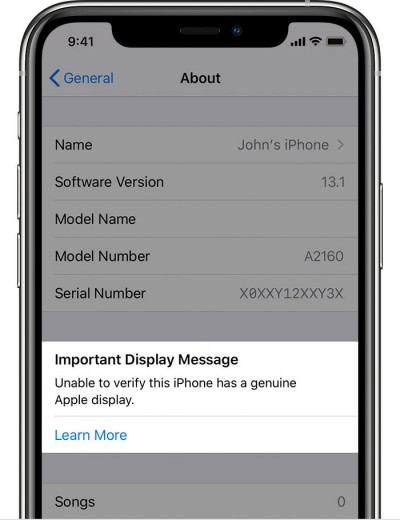 In an official statement by Apple, all handsets from the iPhone 11 family will prompt you with a message on the lock screen that your panel isn't genuine, or the repair wasn't performed by a certified Apple technician. This message will go on for four days and then will move in the main settings menu for another 15 days. After that, it will remain for good in Settings > General > About.
It's unclear if the this would become a thing for older iPhones as Apple has included only the iPhone 11, 11 Pro and 11 Pro Max in the announcement. The company also took the time to warn users what may occur if they change their screen in a non-certified repair shop:
Multi-Touch might not respond on parts of the screen
Degraded Multi-Touch performance, such as missed screen touches or touches not registering in the right location
Touches might unexpectedly register during a phone call
Display might not turn off during phone calls
Accidental edge or palm touches might register
True Tone display doesn't function correctly
Lost or degraded function of the ambient light sensor, causing the screen to dim or brighten incorrectly
Incorrect display color calibration, such as the display to appearing too yellow or blue
Display isn't uniformly bright
Lower maximum brightness
Unintentional battery drain
To be fair, Apple did update its repair policy, which is now a lot more liberal when it comes to out-of-warranty repairs.
Man i run a phone shop and long story short it often happens people buy for example even Iphone 11 pro max for 1500 bucks and when they come to one of our many stores they asking for a cover and even a plain cover with no color nothing special for 10...
R
Some of you praise individuals within companies too much... Steve Jobs is gone and yet Apple continues to make insane profits year on year. And it has been 8 years since Jobs died. If company really depended on him so much, the decline would show in ...
?
It is fine? It's a gradual way of conditioning people into sucking up to these practices. Soon, the scandal caught on tape re: overcharging repairs that was fixed by a simple method from a third party repairman will someday become a norm not only for...