The second beta of iOS 13 has arrived with a helpful feature that will prevent forgotten subscriptions from costing you money. As soon as you try to delete an app that has an active subscription, a pop-up message will ask you if you want to keep it.
Keeping the subscription is good if you use the service on other devices or through your browser. Otherwise the "manage subscription" button will help you cancel it.
This pop-up message even tells you when the subscription is set to automatically renew itself, so you know how long you can keep using it before you have to cancel. Note that Apple's subscription model makes it so that canceling immediately leaves the service accessible until the end of the period.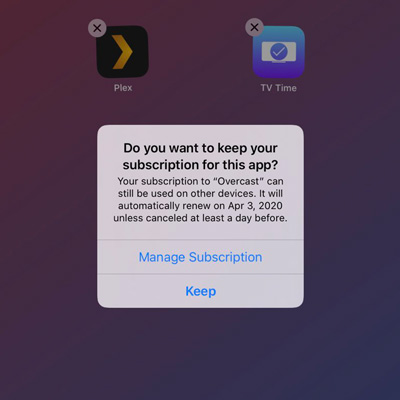 iOS 13 beta 2 warns you when deleting apps with an active subscription
iOS 13 is available for download now and it features additional improvements.
?
nowaday , theres many apps need to subscribe for full feature than buy a full apps . it free for couple day and automatic subscribe after trial expired , sometimes u forget about that , and suddenly ur money gone , then that time u will get mad and b...
H
Unless comment more like..