As of January 11, an estimated 63% of all iOS devices ran iOS 15. The data comes from the App Store support page on Apple's Developer portal and also details the install statistics for iPads. According to the numbers, 72% of iPhones introduced in the last four years boot iOS 15 which is a considerable step up from the majority of compatible iPhones but that's still behind iOS 14 and its 81% install rate about a year ago.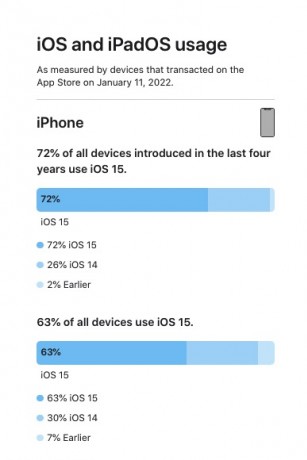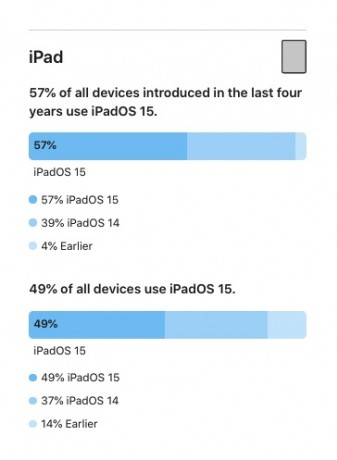 iOS 15 and iPadOS 15 adoption rates
As for the iPad side, 49% of all tablets run iPadOS 15 while 57% of devices four years old and up boot the latest tablet OS. 37% of all iPads still run iPadOS 14 while 14% are on earlier versions. It's important to note that Apple no longer requires users to update to the latest OS version to receive the most recent security updates which could very well be playing a role in the adoption rate decline.
?
the problem with 2026-2022 is that they are different points of the year. For 2022 its the beginning of the year (Feb launch) while for 2026 the phone's last update will be at end of the year aka beginning of 2027, so its really 2027-2022=5
?
I agree, and ppl should stop comparing Google to Samsung, Google just put a mid-range fingerprint sensor for flagship prices and just 90 Hz on regular pixel 6, what a joke. Not to mention Google is no where near Samsung or Xiaomi or Oppo etc 's ...
?
Who cares when Google publishes them? That doesn't matter, think about it. From Samsung user's perspective, it's 1 year per update since the Android updates come basically same time every year. As long as the updates are given out arou...
ADVERTISEMENTS