The iOS 4.3 beta 1 for developers is out and it will bring lots of new goodies to the iPhone and the iPad. All GSM iPhones get personal hotspot capabilities, while the iPad is granted with various useful multi-touch gestures.

Here is a short list of what's discovered so far:
Personal Wi-Fi hotspot capabilities
Multi-touch gestures (iPad only) for quick access to homescreen, multi-tasking bar or the next/previous running app
Configurable iPad slide switch
iAd fullscreen banners on iPad
New FaceTime icon
AirPlay support for third-party apps
Possible video effects (Turbine, X-ray, Tunnel of Light, Collapse, Thermal Camera, Kaleidoscope and Normal)
The personal Wi-Fi hotspot is a long awaited addition, but it will be carrier-dependent for sure and AT&T users should definitely hold their excitement.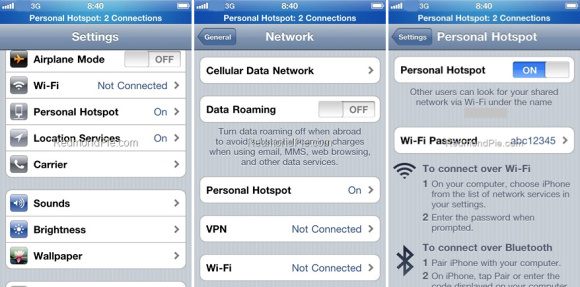 It seems (at least from this beta) the iPad will be the biggest beneficiary. Apple has finally gave up on the mandatory side switch configuration and will let the users decide whether they'll use it as Mute key or as an Orientation lock.
Other new features spotted on the iPad are the awesome multi-touch gestures. You will be able to use four (or five) fingers to minimize an app and go to the homescreen, swipe through all running apps or bring up the multi-tasking bar with a single swipe up. The beta doesn't offer these gestures on the iPhone, but there is nothing certain until the official announcement.
Here is a short demonstration:
There are rumors that the next gen iPhone and iPad (name codes for which were revealed within this software build) may even drop the hardware Home button entirely and rely on gestures only. Reportedly that has been Steve Jobs's intention for the first iPhone, but it wasn't possible back then. And while we are still in the rumorland, the latest one is that the Photo Booth and iLife Mac OS apps will be on the next iPad. We'll see about that.
The iOS 4.3 beta lacks support for iPhone 3G and iPod Touch second generation, so the 4.2.1 might as well be the last supported build for those devices.
Other interesting things discovered within the iOS 4.3 code are a few live video effects, which might be accessible on both FaceTime and video recording. We've already mentioned them in the list above.
The last thing from the code revealed so far is the Find My Friends feature. This is supposed to be part of the MobileMe services and bring functionality similar to that of Google Latitude.
There is no word on when iOS 4.3 will be announced or launched but we're guessing it will happen in the end of January.
?
post a screen shot that symbian changed screen density. you can't even over lap widgets with symbian
?
then do it i dont see my n8 changed screen density
?
I am in the field I recieve this email attachment on my iPhone, I download it, but guess what I cant retrieve it onto my collegues laptop, now what is this IOS is crap
ADVERTISEMENTS