iOS 8.2 has been in the works for quite some time. Last month we reported that a beta 5 version of the software has been made available to developers and rumors point towards next Monday - March 9, as the official release date for the final build. This does fit together nicely with the "Spring Forward" event, which is also set for the upcoming Monday and will be centered around unveiling the new wearable.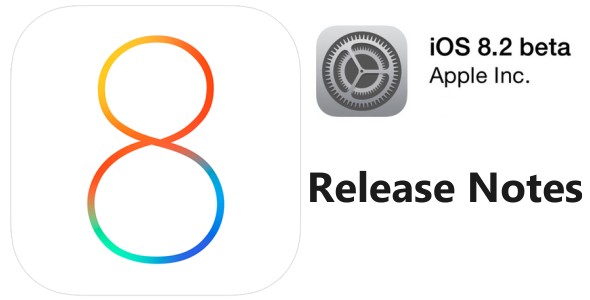 The new iOS version, which mainly adds support for the smartwatch has reportedly received one last GM build before the live update goes out next week and the release noted for the package have managed to slip through the crack. This gives us a sneak peek at what Apple is working on it terms of support for the wearable, as well as some big and stability fixes in the OS itself.
Below is the full internal change log for what is cited as build 12D508:
Health App improvements

Adds the ability to select the unit of measurement for body temperature, weight, height, distance, and blood glucose
Improves stability when dealing with large amounts of data
Includes the ability to add and visualise workout sessions from 3rd-party apps
Addresses an issue that may have prevented users from adding a photo in Medical ID
Fixes units for vitamins and minerals
Fixes an issue where Health data wouldn't refresh after changes data source order
Fixes an issue where some graphics showed no data values
Adds a privacy setting that enables turning off tracking of steps, distance, and flights climbed

Stability Enhancements

Increases stability of Mail
Improves stability of Flyover in Maps
Improves stability of Music
Improves VoiceOver reliability
Improves connectivity with Made for iPhone Hearing Aids

Bug Fixes

Fixes an issue in Maps that prevented navigating to some favorite locations
Addresses an issue where the last word in a quick reply message wasn't autocorrected
Fixes an issue where duplicate iTunes purchased content could prevent iCloud restore from completing
Resolves an issue where some music or playlists didn't sync from iTunes to the Music app
Fixes an issue where deleted audiobooks sometimes remained on the device
Resolves an issue that could prevent call audio from routing to car speakers while using Siri Eyes Free
Fixes a Bluetooth calling issue where no audio is heard until the call is answered
Fixes a timezone issue where Calendar events appear in GMT
Addresses an issue that caused certain events in a custom reoccurring meeting to drop from Exchange calendar
Fixes an certificate error that prevented configuring an Exchange account behind a third-party gateway
Fixes an issue that could cause an organizer's Exchange meeting notes to be overwritten
Resolves an issue that prevented some Calendar events from automatically showing as "busy" after accepting an invite.
Looking at the list, there are, indeed, some interesting new health features added in the mix, like integration with 3rd-party apps and different units of measurements for body temperature, weight, height, distance, and blood glucose. The pedometer will also, apparently, feature a privacy setting, allowing the user to turn it off at will.
It does, however seem that despite all of the development and testing time Apple has had with iOS 8.2, this last-minute build does address a lot of bugs and issues, some of which sound pretty severe. Calendar time zone issues and audio transfer, for instance don't sound like things that should have been rolled over to the final betas, but there might be more to the story than meets the eye.
We're still sour with the poor battery life of iOS 8.1.3 on the iPhone 6, so hopefully, no major issues will come with iOS 8.2. We'll be sure to revisit the matter once we get the new update, so stay tuned.
E
8.2 available, currently downloading...
R
I suppose they still haven't fixed the choppy video recording issue when you pull the notification bar down whilst recording. Unbelievable. This has been buggy since the first release of iOS 8.
ADVERTISEMENTS