Apple took the wraps off iOS 8 during today's WWDC keynote. The latest OS release brings a host of new features and improvements, headed by the ability to closely interact with the freshly announced OS X Yosemite.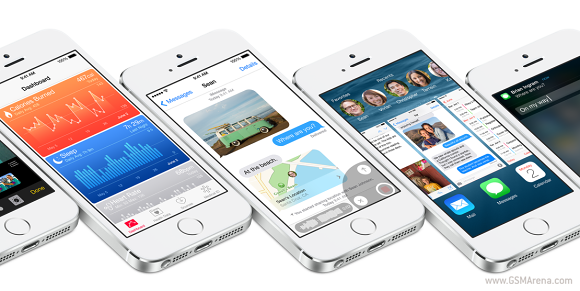 The feature which allows iOS 8 to interact with OS X Yosemite is dubbed Handoff. An expansion of AirDrop, the functionality allows iOS 8 devices to share a multitude of tasks and data with OS X Yosemite, including phone calls messages, files, etc.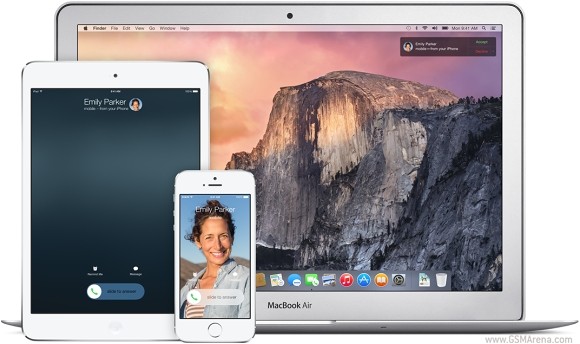 The newly announced iCloud Drive will unsurprisingly be also available on iOS 8. It will be neatly integrated into the OS and is bound to become a serious competitor to the likes of DropBox.
iCloud Drive allows you to sync your app files across all your devices. iCloud Drive is actually the closest to a unified file storage iOS has ever gotten. You start App X, you open up the iCloud Drive panel and from there you open a file, which is originally stored with App Y. Once you are done manipulating it, the file is stored back to its original location under App Y so you always know where to find the latest version. We are yet to hear about the availability details.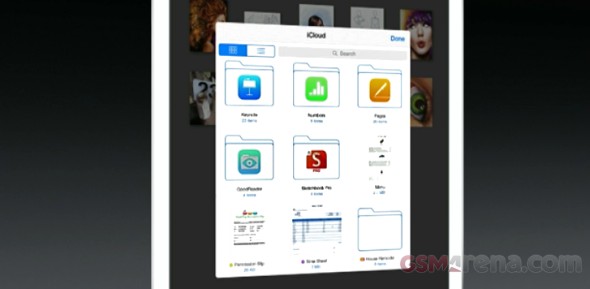 Apple brought the often-requested widgets to iOS with the latest release. However, those will not be located on the homescreen. Instead, you will be able to find them and interact with them in the Notification center.
Notifications in iOS 8 have become interactive as well. For example, you can directly reply to a text from the small pop-up on top of the display. The feature is handy and saves a couple of steps and you don't even have to leave the app you are currently into.
The keyboard in iOS 8 has been changed as well. It predicts more efficiently the words a user is about to input.
Even more importantly, iOS 8 finally brings the ability to install third-party keyboards. This means that the likes of SwiftKey and Swype will soon make their way to iPhones and iPads around the world.
As of its 8th version, iOS features a HealthKit suite which gathers all data collected from the device's tracking apps and various third-party accessories. Apple has teamed up with a number of partners on the health suite including Nike and the Mayo clinic.
Apple iMessage has seen a number of improvements in iOS. The app is now an even more credible competitor to the likes of WhatsApp, gaining the ability to directly send audio and video messages from within the app.
The native email client is another thing to be improved in iOS 8. It allows users to discard unimportant messages via a simple swiping gesture.
Spotlight has been overhauled as well. It now allows users to search for uninstalled apps, songs from the iTunes store, as well as a whole lot more of useful content.
Nince months after its announcement with the iPhone 5s Apple is opening the Touch ID to developers. The fingerprint scanner will therefore soon be available to third-party apps.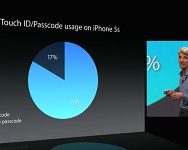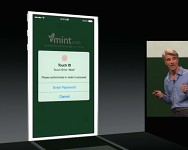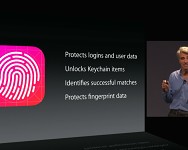 TouchID
The ability to utilize Touch ID is not the only feature which Apple has brought to the SDK for developers. What Apple called the biggest release since the introduction of the App Store, brings over 4,000 new APIs, including new technologies for game development.
The Photos app has also seen a refresh. It now allows edited images to be shared across all synced devices. Post-capture editing will also be synced.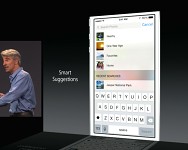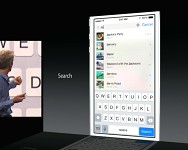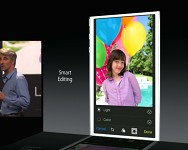 The updated iPhoto
As part of the iOS 8 announcement, Apple unveiled several new features for its App Store. We should expect to see an improved Search feature, App Bundles offered by devs, embedded videos in the app descriptions ala Google Play Store, and devs will be able to invite users to closed bets testing of future versions of their apps.
Family sharing is an iOS 8 feature which allows up to six users to share iTunes, iBooks, and App Store purchases. Family photos, calendar entries and locations can also be shared.
Enterprise features have also been improved in iOS 8. Updates cover beefed up security, new productivity features, as well as better data and device management tools.
Apple iOS 8 will be available to everyone this fall, while a developer Beta of the OS has been released today. Compatible iPhone devices include all models from iPhone 4s onwards.
On the tablet side, iPad 2 and all following releases will be treated to the update. The iPod Touch 5 will be the only one to get updated from the company's music player lineup.
A
My iPhone 4s keyboard doesn't fully function after update the iOS 8.3. Why it's happened?
W
Annoying wifi issue after update IOS 8 on iphone 5s, very disappointed, my phone become a galaxy s after ios8, which also having wifi issue.
ADVERTISEMENTS