According to the latest data from Apple itself, iOS 8 is now on 68% of the devices that are currently registered with the iTunes App Store. Thus, we can assume that the same percentage of Apple mobile devices currently in use are running the latest version of the OS.
That's up from 64% on December 22 of last year, 56% on November 12, 52% on October 29, and 46% on October 5.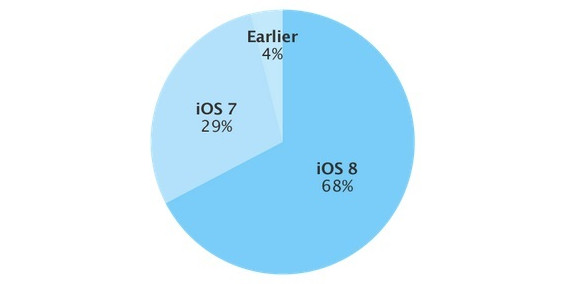 29% of Apple devices are still on iOS 7, while those on even earlier iterations of the software make up just 4% of the pie at this point. If you were doing the math, the current distribution numbers add up to 101%, which is probably due to all of the numbers having been rounded upward.
The fact that around two thirds of iPhones and iPads are now on iOS 8 is confirmed by two mobile analytics firms too. Mixpanel says iOS 8 has a 69.1% share, while Fiksu has it at 64.9%. Apple's numbers are from this Monday, as are Fiksu's. Mixpanel's data is from today.
The adoption of iOS 8 has lagged behind what we've seen for iOS 7 over the same period, but it's still growing, albeit slowly. At the same time last year, iOS 7 was already installed on 78% of devices. It might just be that some people aren't able to free up the 2GB of space that the iOS 8 download requires.
b
ithking that shoud go back drawinvboard to fix there iphone aand ipod software
S
Thought it would be a 100% cause Apple tends to push and shit on their consumers my forcing in on all devices.
?
That's how much apple cares about is customers. IOS 7 and especially 8 have been horrible. You and many many many people were trying to downgrade. That's exactly why they removed the option. They would rather release multiple crap updates every...