iOS 9 adoption slows down, stays at 77% figure reported earlier this month
Apple has released its latest iOS adoption numbers, revealing status quo. The latest figures say the version 9 of the company's mobile operating system now powers 77% of compatible devices, which is the same as what was reported earlier this month.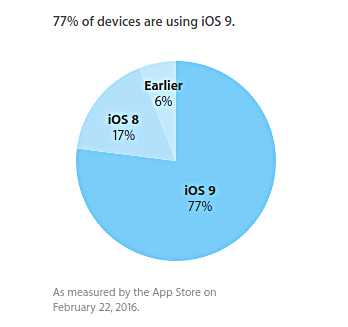 The rate of iOS 9 adoption is, however, still better than its predecessor iOS 8, which hit the 77% mark in mid-March last year. As before, iOS 8's adoption still stands at 17%, while 6% of compatible devices are running earlier iOS versions.
In case you aren't already aware, the adoption numbers are calculated based on the usage of Apple's App Store.
D
it is nothing to be interesting either .. it is just there to use the damn phone .. ppl over years got totally mental.. taking everything too much seriously .. phone is just for to make freakin calls check emails text sms browse few pages and that...
D
Not new.. No need to be new.. Am on 5.0 a d it is ok.. Sufficient.. I am not brainwashed by pointless useless marketing updates.. Which solves nothing.. Only making worse..