iOS 9 unveiled: smarter Siri, split-screen multitasking, transit maps

Apple opened today's WWDC event with the new Mac OS X and took a while to get to the most important part (for us) - iOS 9. Actually Mac OS X and iOS share some improvements, like a focus on security, but first things first.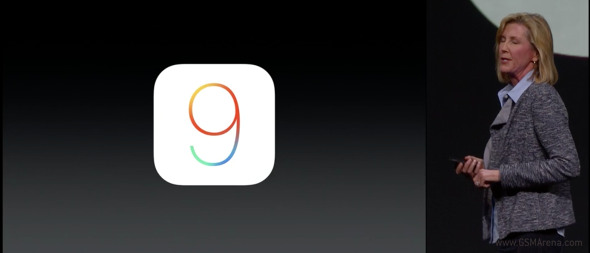 iOS 9 will go into public beta next month and be available as a free update this fall. The new features are not as numerous as we're used to see but here are the most important points.
Siri
Apple calls the new Siri proactive, it is now contextually aware and will offer help without you even having to ask. Overall it sounds a whole lot like Google Now (on Tap).
Siri keeps track of the time of day, your location and connected devices. So plugging in your headphones at home can do one thing (say, open the music player), connecting to your car's Bluetooth will do something else (e.g. go to an audio book).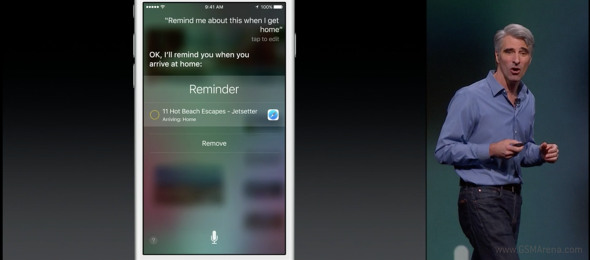 The digital assistant will also keep an eye on your emails and note invitations. If it sees heavy traffic on the road to your next meeting, it will pop up an early reminder so you get going on time.
Siri now lives on the homescreen in the left pane. Everything it has learned allows it to offer you relevant contextual suggestions - contacts and apps, nearby locations and breaking news.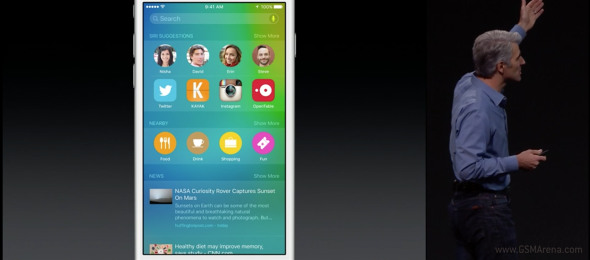 It takes over searching duties too and can even search inside apps showing relevant info in cards. The results are deep-linked, meaning you can tap and be taken into the app right to the content you need. Tap back and you're on the homescreen again.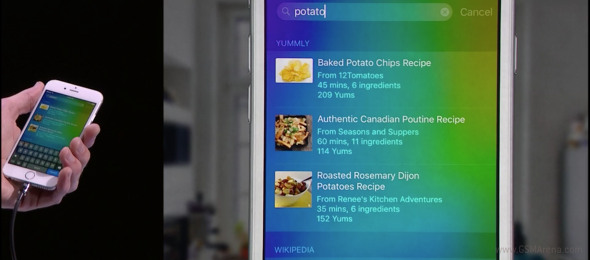 Siri can even act as a sort of caller ID by scanning your emails. When you receive a call from an unknown number, you'll see a suggestion on the screen who the caller might be assuming you've had email correspondence with the person.
It's important to note that the scanning takes place on the phone - this way things are kept private, instead of being sent to a centralized server that would rummage through your mail. This was a less than subtle swipe at how Google Now works.
Multitasking
Apple changed up the app switcher, now you see recent apps as 3D cards similar to Android Lollipop's switcher but with bigger cards.
The bigger news, however, is split-screen multitasking, which is available only on iPads for now (sorry, iPhone 6 Plus users). It comes in two levels and the basic one is Slide Over.
Slide Over lets you dock an app on the side of the screen for a quick interaction. You can swipe from the top to view a list of other apps that can go into the side panel.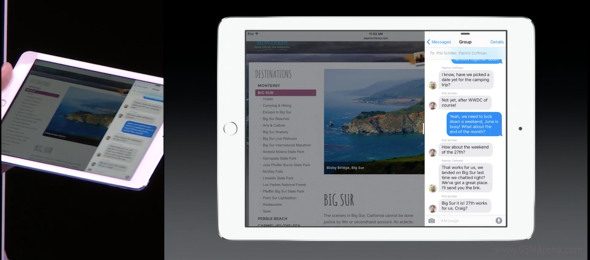 The more advanced feature is called Split View. In Slide Over the main app is greyed out, but in Split View both apps get to work simultaneously. You can switch between apps, change the split ratio and tap into links (e.g. a web address or a map address) and the relevant app will pop up, also in Split View.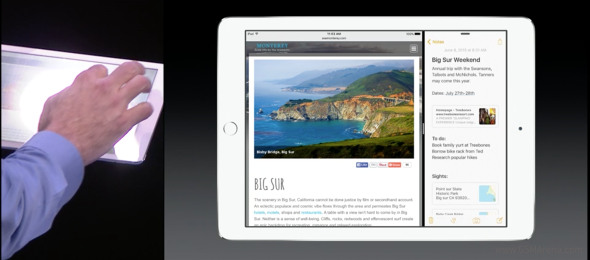 Video apps like ESPN get an additional option - play the video in a small, floating window that you can move and resize, while using other apps as normal.
Apple promises support for these functions is pretty easy, since a lot of the work is already done with Auto Layout and Size Classes for iPhone 6/6 Plus versions of the app.
Now some bad news - the iPhones are left out, but so are older iPads. Slide Over will be available on tablets from iPad Air and iPad mini 2 and up. The more powerful Split View will be available only on the iPad Air 2.
Maps
Apple updated Maps to support public transit. It supports everything from buses to ferries, even including walking directions between stops. Apple even mapped out big subway stations so Maps can lead you to the next place even underground.
Wherever you go, interesting nearby locations can be viewed with a single tap. And Apple has placed a clear indication if that location supports Apple Pay.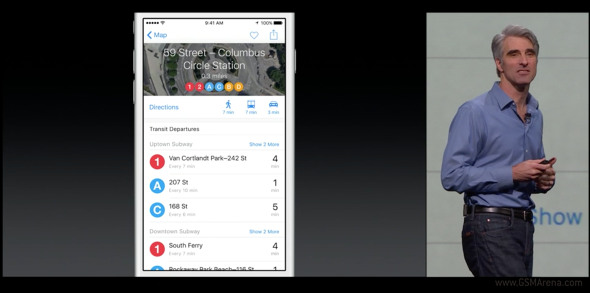 The Transit support will launch in a number of US countries, along with London, Toronto, Mexico city, plus a whole lot of Chinese cities.
Typing
Apple is bringing additional enhancements to the iPad with the updated keyboard, which Apple calls QuickType. It now shows shortcuts for common actions like cut/copy/paste. The keyboard also doubles as a trackpad, you can use two fingers to move the cursor and select text like you would on a laptop without even reaching to the text box.
iPads also support actual, physical keyboards and iOS 9 will make it easy to discover helpful shortcuts, including ones for app switching.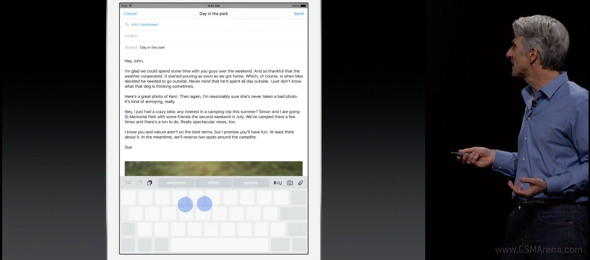 News
iOS 9 will introduce a new native app - News. It's a Flipboard-like setup, where you pick your interests and the app offers a curated list of news sources in a constant news stream called "For you". It uses advanced machine learning to differentiate between over one thousand topics so it can really home in on your interests.
And like with Siri, this happens on the device so your reading habits are kept private. The more you use the app, the more it will learn about what you like.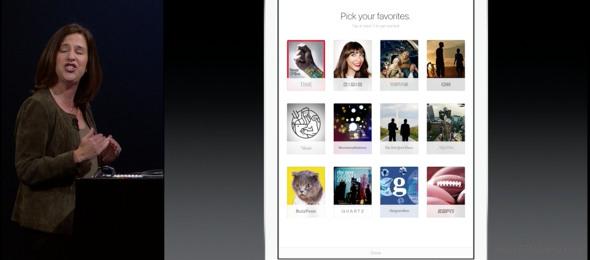 News will launch in the US, the UK and Australia at first.
Notes
The revamped Notes app now has text formatting options available to go with the handy new keyboard. It also makes it easy to create checklists and add photos and drawings to a Note. You can use the sharing menu to add shortcuts to notes.
Notes will be synced to your Mac over iCloud.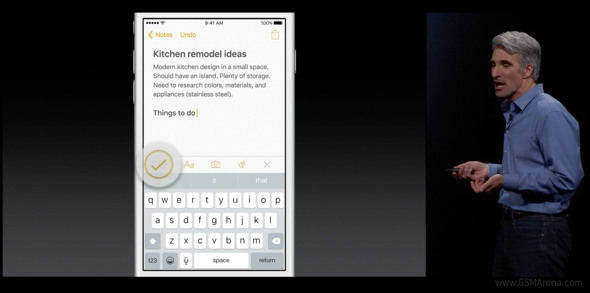 Car Play
Apple's automotive interface will break free from wires and will show up on supported cars even while your phone is in your pocket. It will run apps from car makers for a deeper integration and control of your exact model.
Car makers can use better screens too - wider and with a higher pixel count.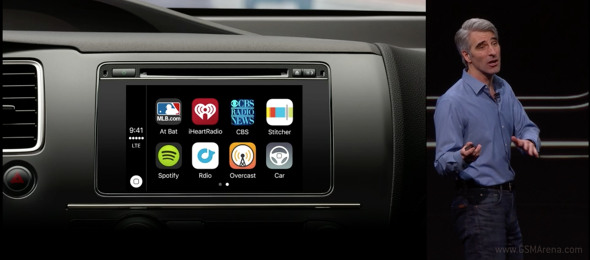 Misc
All this sounds pretty cool, but you may be wincing at the painful upgrade process. The good news is that while the OTA update to iOS8 used to require 4.6GB of free space free to install, the new version - iOS 9 - will only need 1.3GB of storage to download and install.
Your iCloud account will also be more secure thanks to two-factor authentication (it was about time this was introduced).
Like on Mac OS, iOS 9 will make more extensive use of the Metal graphic APIs - a faster, more efficient way to talk to an iPhone (or iPad) GPU. Apple is promising a 1.6x performance increase, while cutting CPU overhead by half.
The new version of iOS is more power-efficient as well, and it should allows you to squeeze in an extra hour. There's a new low power toggle too, which will add three extra hours on average.
That's about the most important points about iOS 9. Again, iOS 9 will go into public beta next month - an iOS first - and it will become available as a free update this fall to all devices that currently run iOS8 - even the older ones.
?
Don't hold your breath, I don't think it'll happen anytime soon as iOS 7 was a major redesign and it's only 2 years old. Still you can change all the icons and themes using cydia tweaks if you have a jailbroken iPhone (or ipad).
T
''IOS 9; the most androidest iOS you have ever seen'' -Guaranteed
ADVERTISEMENTS