Despite Android holding the majority of the mobile market share, enterprise users are overwhelmingly comprised of iOS devices.
A report by Good Technology, which is a company that provides secure usage software for enterprise users, revealed the numbers.
iOS activations made up 73 percent of total device activations in Q4, up from 72 percent in Q3 and 69 percent in Q2 of 2013. Android activations decreased one percentage point quarter over quarter and came in at 26 percent of total device activations.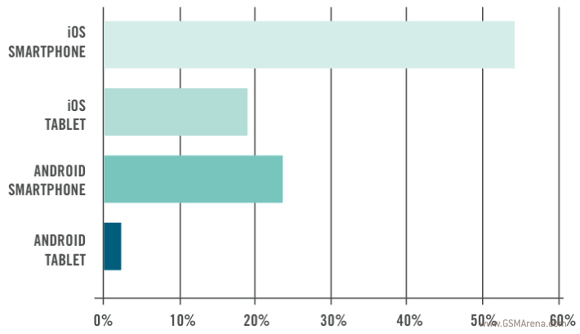 The number of iPhones activated came in at 54%, with iPads comprising 19% of activated devices. Compared to the number of Android Tablets activated, which was just 8.6%, iOS is looking pretty dominant.
However, Good's reports should be taken with a grain of salt. Their studies don't include Blackberry devices, which are still very much in use in the corporate world. Also excluded from Good's findings are users who use Google apps, so that leaves out a potentially significant number of Android users.
Still, Good's findings seem to confirm what Apple CEO, Tim Cook has said about Apple's enterprise growth, which he defined as, "unbelievable."
Do you work in the corporate world and see that Apple is dominating Android and Blackberry?
I
Oh, I'm not saying I'm an omnisciente being, who knows all... But neither are the people in the corporate world... Like I posted before, it ends up being a question of personal opinion, not what is best or not... And trust me, most people w...
M
Again is this Globally or just USA?? The corporate I work for (on the opposite side of the world to USA) have hundreds of cell phone contracts. 2 years ago 98% of all contracts were Black Berry, a few androids and 1 or 2 Apples that's it.. TODAY ...
B
iOS is having an out of the world exp while using it for mail and office pirpose
ADVERTISEMENTS