If you needed more proof about how successful Apple's iPhone 6 and iPhone 6 Plus have been, especially in the US market, then this is going to be it.
According to the analysts at Kantar Worldpanel ComTech, iOS has managed to take the lead from Android in the US smartphone market in the fourth quarter of 2014 (so between October and December).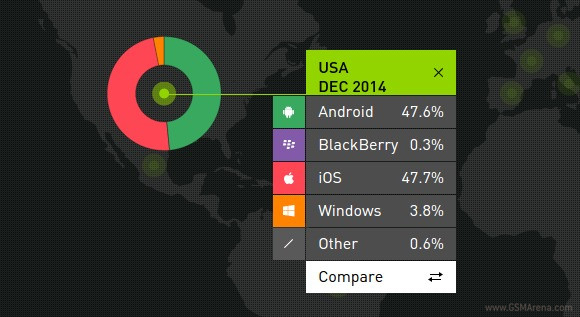 Granted, Apple's managed to sell only slightly more iOS devices than all Android makers combined - the difference is just 0.1%. Still, it's interesting because the last time something like this happened was in Q4 of 2012.
For the last three months of last year, Kantar says 47.7% of smartphones sold in the US were iPhones, while 47.6% ran Android. Windows Phone accounted for 3.8% of the market, while BlackBerry had to make do with just 0.3%.
Throughout the holiday quarter, the iPhone 6 was the best selling smartphone in the US, as well as the most popular handset to be given as a gift. Samsung's Galaxy S5 was the second best. When it comes to brand loyalty, Apple is leading again, with 87% in the US and Europe. Samsung fares the best out of the Android device makers with 62%.
Obviously though, Android remains the biggest mobile OS worldwide, with a 66.1% share in Europe and 77% in China. That said, smartphone penetration is still just 59% in the US and 67% in the top five European markets, which means there's still growth to come.
While reading the numbers above keep in mind that ComTech is a consumer panel, getting its data from interviews with ordinary people. This is different from other approaches, which prefer to track actual shipments of devices from manufacturers to retailers and carriers.
?
Even if true what all the fanpeople forget is that it's only due to the 6 and 6 plus having larger displays and HD resolution with which millions of users have been waiting years for. So everyone knew that they would obviously have some good sales.
D
I think, it's Samsung vs world. Because Samsung has a lot of competitor . They also have most haters . So its Samsung vs world .
j
It's a false statistic. Even if Apple had a good sale with the success of iPhone 6, Apple can't sell more phones than all the concurrence with Android, and Samsung only sold more phone than Apple with Android, in all category segment of smartphone. ...