Center of gravity
Apple iPad Air vs. Samsung Galaxy Note 10.1 2014: Center of gravity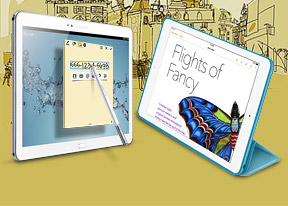 Introduction
With the smartphone market driven towards equilibrium, tablets will be the new battleground. The Apple iPad Air and the Samsung Galaxy Note 10.1 2014 emerge as the archrivals in the 10-inch category, marching towards their inevitable clash.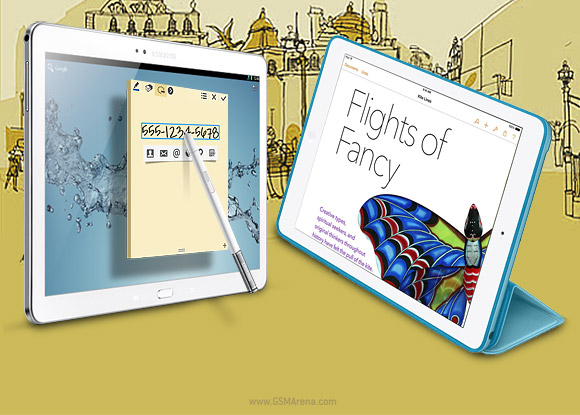 Casual browsing and gaming have long been the strong suit of tablets, but in the post-PC era they have a big issue to deal with - content creation. The Galaxy Note 10.1 2014 addresses this with the S Pen stylus and a number of productivity apps linked to it, while Apple keeps pushing ease-of-use and unmatched user experience as the biggest advantage.
Here's how these two tablets stack up against each other.
Apple iPad Air over Galaxy Note 10.1 2014
Much lighter - 469g over 7.9mm, 540g
Thinner 7.5mm over 7.9mm
Aluminum body
CDMA connectivity
ARMv8-based 64-bit processor
Cheaper base price
Samsung Galaxy Note 10.1 2014 over iPad Air
S Pen stylus
Sharper screen - 299ppi over 264ppi
3GB RAM over 1GB
Expandable storage
Cat. 4 LTE support (150Mbps downlink) over Cat. 3 (100Mbps)
Wi-Fi 802.11ac
8MP main camera with LED flash over 5MP and no LED
1080p video capture @ 60fps over 1080p @ 30fps
1080p-capable front-facing camera over 720p
Standard microUSB port
Samsung KNOX enterprise security
IR blaster for remote control functions
Simple spec by spec comparisons like this don't usually tell the whole story - this article would've been much shorter if they did. Instead, we'll be looking at the two contenders from a use-case point of view - which one is best for a specific task.
Obviously, we'll need to start with the basics like how good the hardware is, will the battery last you the full work day and so on. And things will only get more focused after that. Which tablet is best for multimedia consumption? What about gaming? Which one will give you the most in terms of productivity? Are the cameras just decorations or actually usable?




Samsung Galaxy Note 10.1 2014 and Apple iPad Air side by side
We've already dealt with these things to a degree. The S Pen on the Samsung Galaxy Note 10.1 2014 fills the void left by the lack of a mouse - yes, tablets are all about touch but computer mice have long provided us with accuracy and additional control options that fingers just don't have.
Apple killed the stylus in the first place and is not about to bring it back. Instead, Cupertino offers a first-rate experience within its own ecosystem. Office suite, maps, cloud, even music creation, all Apple made. Samsung on the other hand outsources much of that to Google, Polaris Office, Dropbox and so on.
The first round will be fought over hardware - the build, the looks, the good and the bad - right on the next page.
G
Wow, someone who thinks of Apple like I do. Bang on what I always tell people.
t
While this is a good review for both units, the reviewer seemed more "excited" and a little biased favoring galaxy note 10. From my observation, the descriptions and technical details is almost always longer for the samsung unit. It's as if the revie...
S
Having access to both older units and watching the iOS vs. Android battle rage on, after owning both a Apple iPad 2 and a Samsung GTab p5100 I can for sure say the iPads outlast the droids by a long way. As the OS evolves often the droids run out of ...