Center of gravity
Apple iPad Air vs. Samsung Galaxy Note 10.1 2014: Center of gravity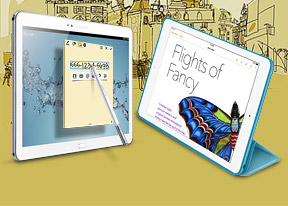 Apps and productivity
Let's start off with something as basic as messaging. Even phones don't do a lot of voice calls these days (even less when you count only ones on a mobile network), so powerful messaging is required of modern tablets, not having voice call functionality on a mobile network is no excuse.
Messaging comes in a lot of forms and the most basic one is text messaging (obviously we're not talking SMS here). Both tablets push their own brand of messaging - the Apple iPad Air has iMessage, while the Samsung Galaxy Note 10.1 has ChatON. Google's Hangouts is available out of the box too (there's a capable iOS version as well).
Android and iOS can both do voice dictation instead of regular text input, but the Galaxy Note 10.1 2014 can also handle handwriting recognition using the S Pen.
Both iMessage and ChatON have versions for phones and for desktop computers. The iMessage app is Mac OS-only though, while ChatON is available as a web app that can be accessed from any platform. Neither app does VOIP calls, but Hangouts on iOS can (surprisingly, Hangouts on Android is yet to get there).
Both clients can send photos, but ChatON tries to go a bit further with animated stamps (they are becoming the hot new thing) and serves as a mini social network too - you can post updates and follow people. That said, Hangouts will probably see more use than ChatON.
Then there's video chatting, which Hangouts does out of the box (including group video chatting). The iPad Air has its own out of the box solution for video chats - Facetime - though it's mano-a-mano and there's no Facetime client for Android (but again, there's a Hangouts app for iOS).
Then there's good ol' email. On the iPad, it's handled by the Mail app, which has a split-screen interface for navigating between different messages. A similar interface is also available on both mail apps on the Galaxy Note 10.1 2014, Gmail and Mail.
Gmail has handy gestures and automatically organizes messages into categories (e.g. promotional emails are put in the same folder). The generic email app isn't as smart, but it still has nice features like dragging and dropping an email into a folder. You can also use the S Pen to preview messages by hovering over them.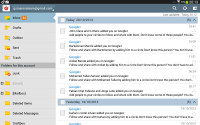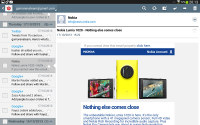 Mail and Gmail apps on the Galaxy Note 10.1 2014
Both tablets come with full Office suites out of the box. The iPad Air has Apple's iWorks suite, while the Samsung Galaxy Note 10.1 2014 relies on Polaris Office. Both apps support viewing and editing Word, Excel and PowerPoint docs with powerful editing and formatting features.
Both apps also support wireless printing, but it's up to the printer to support the required format (AirPrint on both counts).
We covered the cloud sync support on both tablets, but Polaris Office has additional sync features, including Box.net, Dropbox, Google Drive or SugarSync.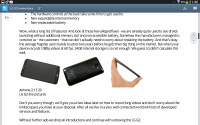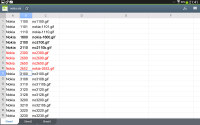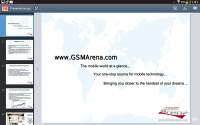 Polaris Office handles document editing
The basic organizational skills on both tablets are handled by calendar, notes and to-do apps that have mostly the same functionality. Both calendar apps can connect to multiple online calendars and will sync your notes to the cloud for backup.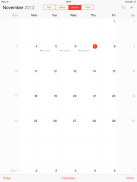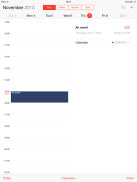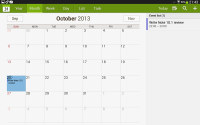 Calendar on iOS 7 • Calendar on TouchWizzified Note 10.1 2014
The Samsung Galaxy Note 10.1 2014 also has the S Note app, which leverages the S Pen to take notes by hand, which is much more convenient if you need to make a sketch. The S Note app also syncs with the popular Evernote service.
S Notes are created in a floating app interface, which makes them quick and unobtrusive.
The S Pen can do yet more - each time you pull it out, the Air Command menu pops up. It provides way to access several features that rely on the S Pen.
Action Memo, for example, is similar to S Note but elements of the memos can trigger action, e.g. a "Call Steve" memo can be set to dial Steve's number. Handwriting recognition is used to make this magic work.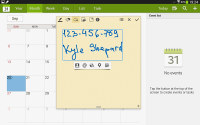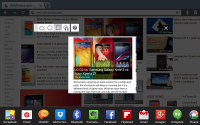 Action Memo • Using the S Pen to annotate a screenshot
The S Pen can also quickly screenshot a part (or all) of the screen so that you can scribble on some comments on top (this can be invaluable to designers who need a way to provide quick feedback).
Then there's S Search, which is the most powerful search tool we've seen yet. It searches through messages, multimedia, settings, phonebook, the internet and content created by the S Apps. You can tag items, restrict things by date of creation or content type.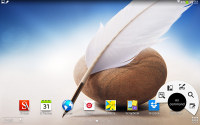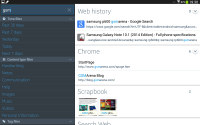 The Air Command menu and launching S Search
Winner: Samsung Galaxy Note 10.1 2014. The Note 10.1 really leans on its S Pen for some handy functionality, which really enhances the tablet experience. Samsung also preloaded the tablet with a host of home-baked apps and tweaks, which can be helpful to some.
The Apple iPad Air does a great job too, though it doesn't really have features that aren't matched by the Note 10.1 (and it misses a few).