Center of gravity
Apple iPad Air vs. Samsung Galaxy Note 10.1 2014: Center of gravity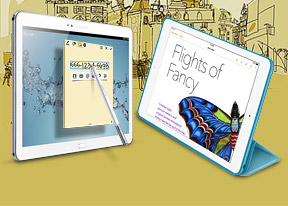 Multimedia
In the hardware section we touched on the multimedia powers of the tablets, now it's time to expand on that and back it up with some concrete numbers.
iOS 7 brought a brand new gallery app with some cool new functionality. The default view is called Moments and groups photos by location and date, which makes finding the photos from your summer vacation a breeze. An alternative view shows you a map with pins indicating the locations of photos in your gallery. There's a mini social network in the form of Photo streams that allows you to share photos with friends and family on different topics (streams) and they can comment back.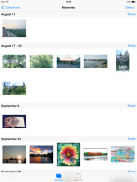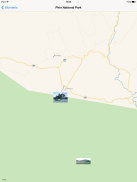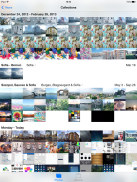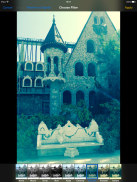 Photos on iOS 7 groups images and videos based on time and location • basic editing
For photo and video editing, Apple has made iPhoto and iMovie free, both of which are fairly powerful.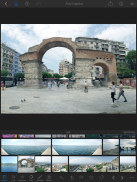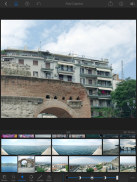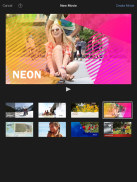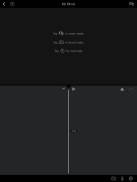 iPhoto and iMovie offer more advanced editing options
GarageBand is also free, the app allows music editing and creation. YouTubers and up and coming musicians will appreciate these options.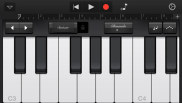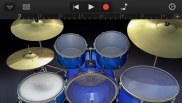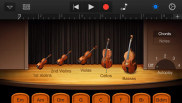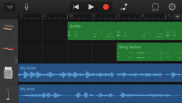 GarageBand is a cool music creation tool
The gallery on the Samsung Galaxy Note 10.1 2014 is close to stock Android, though it has some enhancements. It can group photos by time or by location (but not both), by the people in them or by plain folders.
A cool feature here is that there's a panel that shows the folders on the left, similar to the Explorer app on Windows, which simplifies operations that span multiple folders.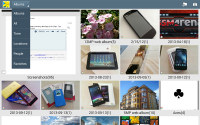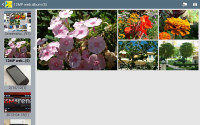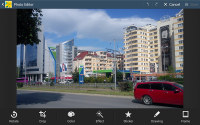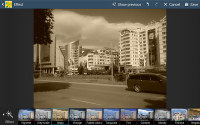 Gallery on the Note 10.1 2014 and image editing
For editing, you get the standard gallery photo editing tools plus a simple video editor. The bespoke Sketchbook app, however, will be of great interest to artists - it's a sketching app that makes full use of the S Pen, including pressure sensitivity. The app supports layers with blending modes, visual guides and symmetry tools. It turns the Galaxy Note 10.1 2014 into a powerful tool for digital artists that can replace Photoshop and a Wacom tablet setup.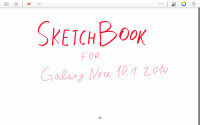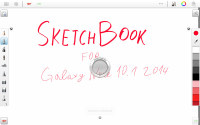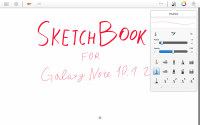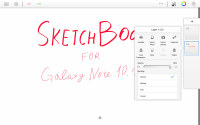 Bespoke Sketchbook app for the Galaxy Note 10.1 2014
The Note 10.1 doesn't have an answer to GarageBand though.
Samsung's multimedia players are typically among the best and the Galaxy Note 10.1 2014 is no exception. The music player supports the most popular music formats - MP3, AAC and FLAC. An equalizer is available to enhance your listening experience, complete with SoundAlive presets like Tube amp effect and Virtual 7.1 channel.
The manual equalizer has a great option to pick a setting from a grid ranging from instrumental to vocal and from treble to bass, with Rock, Jazz, Classic and Pop squares labeled to give you a hind where to aim for a specific genre. A similar method can be used to automatically construct a playlist of a given mood and tempo.
Better yet, you can let the Galaxy Note 10.1 do the work itself and adjust its settings automatically to your headphones with the Adapt Sound feature.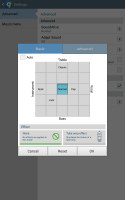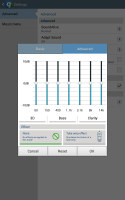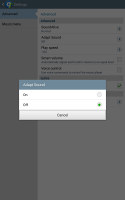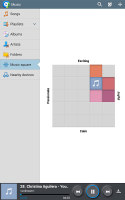 Samsung's music player has plenty of options
The player supports Multi Window and Pen Window, so you can control it without leaving the current app. The standard lockscreen and notification area controls are there too. AllShare and DLNA are supported if you want to stream your music to something with more audio power.
The iPad Air music player is closely linked to Apple's iTunes store. The desktop app will handle file conversion if necessary, but MP3 and AAC should work. Also, if you're using iTunes Match, Apple will automatically provide high-quality versions of your songs.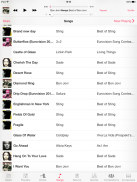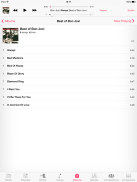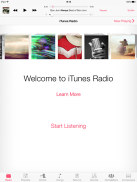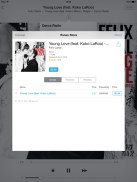 Music player on iOS 7 • iTunes Radio • iTunes music store
There's also iTunes Radio for Internet streaming, which has 15 second ads. iTunes Match removes them.
The iPad music player has controls in the Control Center, so you can change tracks without leaving the app too.
The situation with the video players is similar. The Galaxy Note 10.1 covers most of the popular formats (although it misses on a few that were available on previous Samsung products), while with the iPad everything goes through Apple - either their iTunes servers or the desktop app, so you don't even need to know what a video format is (but this might require transcoding).
Anyway, the Samsung video player has the same features as the music player, including SoundAlive and playback in a floating window. Not using the whole screen for video doesn't make sense for movies, but lectures, interviews, music videos all fit very well in a Pen Window app while you use another app. The YouTube app also supports Pen Window, so you can watch online videos the exact same way.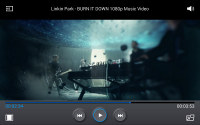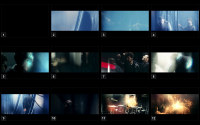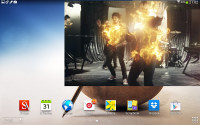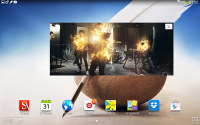 Samsung's capable video player • Pop Up Play in action
As we already mentioned several times Apple's iTunes is the primary source of music and videos for your iPad. Google also sells music and videos through the Play Store, but Android is a lot more permissive about third-party stores so you can just as easily go to Amazon for your content.
And when you do download a movie to watch, you can watch it on your TV. The iPad Air offers wired TV-Out (requires an adapter) and wireless AirPlay (requires and Apple TV). There are apps to add DLNA support to the iPad too.
The Galaxy Note 10.1 offers HDMI out via an adapter (those are much cheaper than the Apple TV) and wireless DLNA, which is supported by new HDTVs, so no adapters are needed.
The Note 10.1 has the added advantage of the IR blaster on top, which means it can control AV receivers, disc players and set top boxes. It can be the heart of your home theater setup, whether or not you use it as the video source.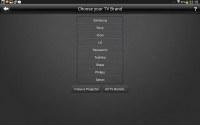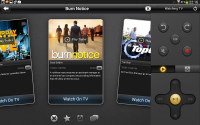 The Note 10.1 can control your home theater setup
Winner: Tie. It depends on what you need the tablet for, really.
The iPad has more content creation options, especially when it comes to music where Android is traditionally weak. It's better at organizing your photos too, though dealing with iTunes (the store and the desktop app) is pretty much mandatory.
The Samsung Galaxy Note 10.1 2014 is the best tablet for drawing and it does give you more freedom when it comes to playback with better codec support and more stores you can access. It's the better choice for a home theater setup too.