Center of gravity
Apple iPad Air vs. Samsung Galaxy Note 10.1 2014: Center of gravity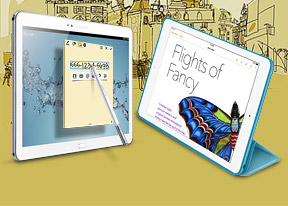 Camera
We don't condone tablet photography, but both tablets can snap a photo or record a video in a pinch. The Samsung Galaxy Note 10.1 2014 has an advantage here - it has an 8MP camera to Apple iPad Air's 5MP shooter. The Samsung tablet also has an LED flash.
The LTE version of the Note 10.1 can also record 1080p video at 60fps, while the non-LTE version and the iPad Air top out at 30fps.
Anyway, both cameras apps are cut down versions of those found in the flagship phones of their respective companies. This means the iPad camera is even more basic - you can snap regular photos with the front or back camera, square photos and record 1080p @ 30fps videos. There's HDR mode, AE/AF lock and geo-tagging (note that the Wi-Fi only iPads don't have GPS) as well as grids. There's no panorama mode or color effects.
The Photo Booth does give you a choice of 8 effects with live preview.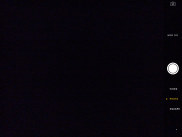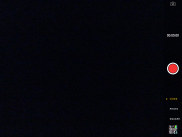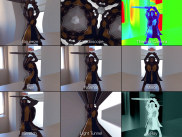 Simple interface of the iPad camera • color effects from Photo Booth
The Samsung camera app has a ton of features in comparison. For one, you can choose the resolution and adjust image properties. Geo-tagging with GPS is available on all Galaxy Note 10.1 2014 versions.
There are color effects with live preview, HDR mode, panorama plus a selection of the more advanced modes. There's object removal, Drama shot (creates several copies of a moving object), Sound & shot (records ambient noise along with the photo, these are hard to share) and best photo mode.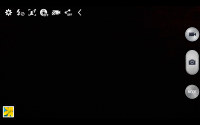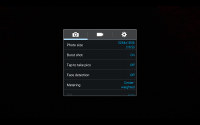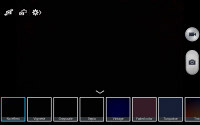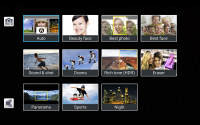 The Galaxy Note 10.1 2014 has plenty more features
The Samsung Galaxy Note 10.1 2014 has an advantage in terms of image quality right out the gate due to its higher resolution, which actually translates in more detail rather than being just a number. Noise levels in the Apple iPad Air photos were higher too, which doesn't help its cause.
Both tablets go for a warm white balance, with the iPad Air generally being closer to reality. Part of that is because the Samsung tablet tends to oversaturate colors. The iPad has a problem with reds though. The Air tries to keep detail in the shadows at the expense of the highlights, while the Note 10.1 takes a more balanced approach and loses bits in both the shadows and the highlights.
The iPad has a slightly wider field of view (FoV), which means it can fit more in the frame, but that comes at the cost of reduced resolved detail for each object.






Samsung Galaxy Note 10.1 2014 camera samples
When it comes to shooting videos, both tablets shoot 1080p videos at 30fps with 17Mbps bitrate. The iPad uses a slightly more advanced codec (AVC High@L4.1 over High@L4.0). The Samsung Galaxy Note 10.1 2014 has an additional 1080p @ 60fps mode and can do 720p and lower if needed, while the iPad is stuck at 1080p @ 30fps.
The level of detail is comparable between the two tablets, but the Galaxy Note 10.1 2014 has a slight edge in terms of sharpness. More importantly, the Note 10.1 has a wider FoV, which means it can fit a bit more in the frame. This is because the iPad has an always-on digital stabilization, which reduces the FoV.
The Galaxy also tones down the saturation in videos, which improves color accuracy. It also records stereo sound, while the iPad - like all iOS devices - just records mono sound.
Here are the video samples we shot with both tablets.
Winner: Samsung Galaxy Note 10.1 2014. A higher resolution camera with slightly better image quality and many more options, win the still camera for the Note 10.1. It also comes out on top for video recording with stereo sound and a 1080p @ 60fps option. Oh, and there's an LED flash.
The Apple iPad Air camera is at least a generation behind the Note 10.1 camera (which itself is behind current phones). Again, we think using a tablet's camera is a move of either desperation or cluelessness, so it's not a huge deal.