iPad Pro can update the firmware of accessories through Smart Connector in latest iOS 9.3 beta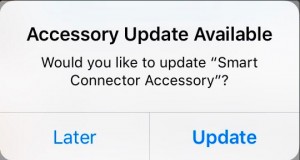 Apple sent out the second public beta of iOS 9.3 to interested testers yesterday, and already a new feature has surfaced in this release.
It turns out that the iPad Pro can now update the firmware of your accessories, using the Smart Connector. Two different sources have confirmed that this already works for the Logitech Create iPad Keyboard, when attached to the iPad Pro through the tablet's Smart Connector. The update has thankfully fixed issues having to do with keyboard lag as well as missed keystrokes.
The message you can see in the image above shows up, and then if you hit Update, a few minutes later the process will be complete. While it's happening, you'll see an indication of what percentage has been already achieved. Hopefully the incredibly generic update prompt captured by the screenshot above will be changed to something more specific (which will include the name of the accessory in question) before iOS 9.3 is finalized. One important thing to note is that while your accessory is being updated in this manner, you won't be able to use it at all.
D
During the update of 9.3 beta 2, instead of update, I clicked Later... Now this Later never happens. I cannot find a way to initiate the smart connector update and I am stuck with the Logi Create keyboard issues... Any suggestions?
D
because they not build it for everyone .. even u see their ads also more on editing and drawing and it have its own specialty . but it depend if people still want to buy it for their own , its up to them. but i agree , the price is ridicules