Previous firmware versions only did cosmetic changes to the iPhone interface as far as users are concerned. Back-end fixes can rarely be seen by the ordinary user. As some leaked info has it, the latest 1.1.3 firmware update that will become available somewhere in the near future will change a whole lot of things.
Having in mind the Apple stringent security policy it's pretty intriguing how this new firmware got to the journalistic folks like us. Anyways, it was first GearLive.com that got the new feature scoop out along with some screenshots.
The expected new features are:
The ability to send an SMS message to multiple people
Google Maps cell tower triangulation feature "My Location"
Google Maps can now display the Hybrid map view
You can now rearrange and drag-and-drop icons on your home screen
The home screen supports pagination
You can now add web bookmarks to your home screen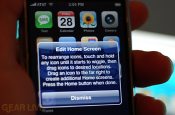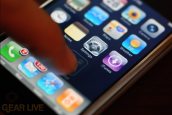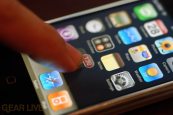 Freely rearranging springboard icons
Obviously the new changes such as the ability to rearrange springboard icons and the pagination are tell-tale signs that Apple are getting ready for unlocking the iPhone to third-party applications. So we wonder whether there are even more system changes under the hood of this thing.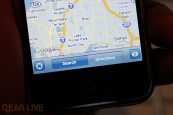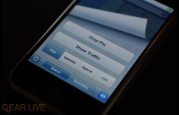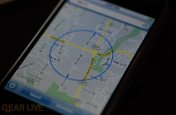 New features to Google maps include My location and Hybrid map view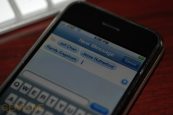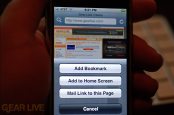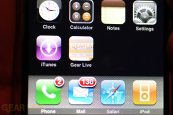 There is also SMS to multiple recipients and saving web bookmarks to homescreen
Next Nate from cre.ations.net, the creator of the popular iBrickr software, posted a video for all of us to enjoy, confirming the leaked info from gearlive.com.
As you know hacking every upcoming iPhone software update is a constant cat-n-mouse game between Apple and the hackers community. For the moment Apple leads 1:0 since older 1.1.1 unlocked iPhones can be updated to the current version 1.1.2, however newly bought iPhones, which come with the 1.1.2 version preinstalled cannot be touched without a valid contract with one of the official carriers. The only way to do that is using a hacked SIM card such as TurboSIM, etc.
As hackers insight have it, that will change once the 1.1.3 firmware version is out as some new valid hardware access key is needed in order to write some hacked code to the 1.1.2 out-of-the-box iPhones.
Release date for the 1.1.3 firmware is yet not known but it's positive that updating straightly to it will brick currently unlocked iPhones with the 1.1.2 software. Even if you have a legit contract account with AT&T, applying the 1.1.3 update to an unlocked iPhone will make it stop working even with the AT&T SIM card.
J
The ability to send multiple SMS... The "pinnacle" of "innovation" from Apple! HAHA!
?
Apple is not trying to market the iPhone at the smartphone market. It is trying to bring the features of smartphones to the masses. Gica 1) Sure 3G would be nice and Apple has said it plans to upgrade soon when battery life gets better 2) Ha...
?
Just wait for the SDK....applications development will really take off then.....
ADVERTISEMENTS