Apple iPhone 12 Pro Max's AnTuTu result shows minor performance gains
Even though Apple didn't announce any new iPhones during its September event, the company detailed the heart of the future phones - the Apple A14 chipset. Based on Apple's claims at the announcement we estimated it to have a 17% faster CPU and 8% better GPU than its predecessor and a newly surfaced benchmark shows these numbers are close enough.
An AnTuTu benchmark run on the iPhone 12 Pro Max, reveals 16% higher CPU score and 4% better GPU result. There's however a more pronounced boost in memory speeds - 22%, but overall the performance gains are clearly minor.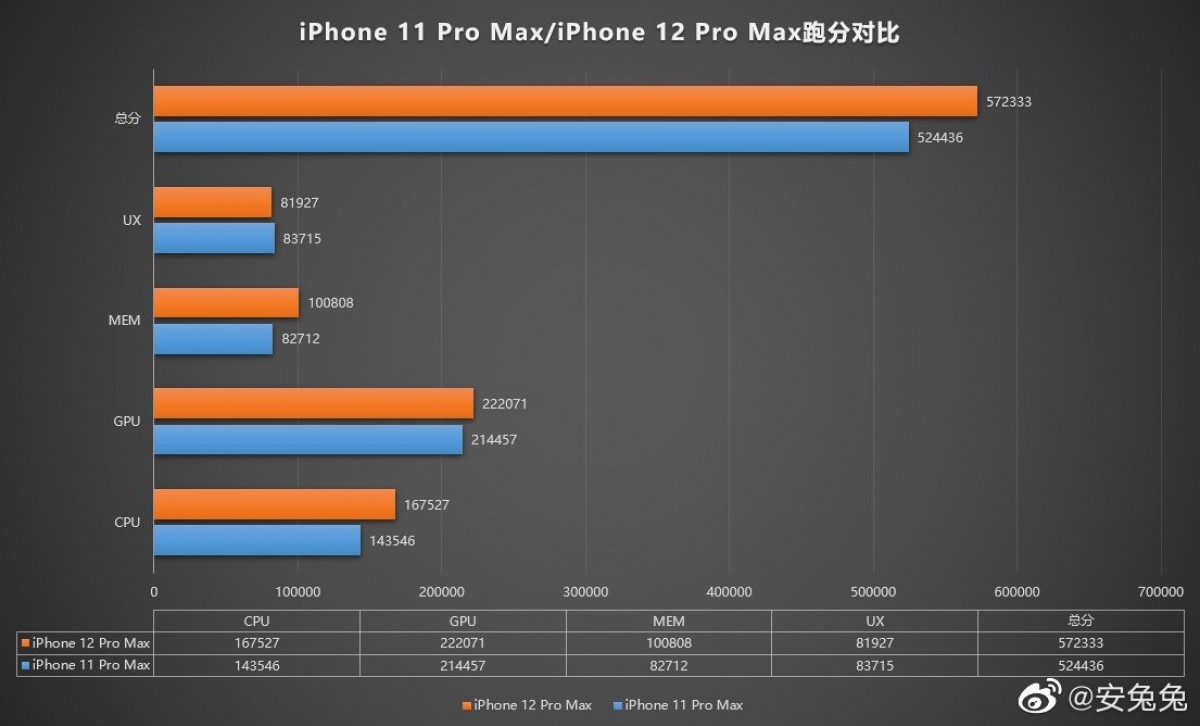 The combined result of 572,333 points might seem low, considering the Snapdragon 865+ Android competition goes above the 600,000 mark, but cross-platform benchmark comparison isn't really a level playing field because there are differences in how the tasks are executed.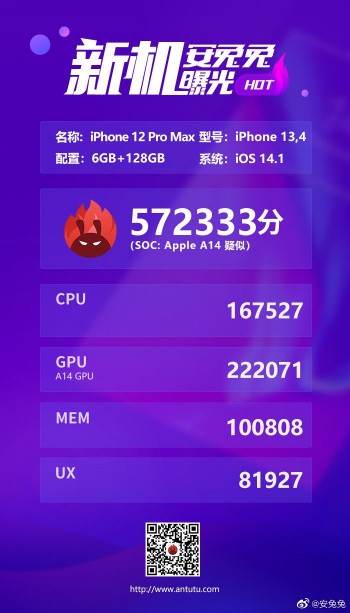 However, the comparison to the A13 should be fully relevant and it shows that the world's first 5nm chipset won't bring the performance leap many were expecting of it. There are three explanations that come to mind.
For one Apple might have prioritized battery draw over outright performance making the A14 use less power, while achieving what is roughly the same performance. That's most likely it since the A14 Bionic pioneer - the Apple iPad Air 4th generation - has the same battery life as its predecessor despite packing an 8% smaller cell.
Alternatively, the move to 5nm chipsets might not yield the gains that we all hoped. While the almost 30% smaller process should theoretically deliver great efficiency boost, it may take time until it's fully utilized.
Finally, this could be an engineering sample and the performance of the final units can be far better. However with Apple itself claiming modest gains close to these results that seems like a very long shot.
J
Wait a second. How can antutu get the iPhone 12 pro max ahead of time? Did anybody somehow get an iPhone 12 pro max and test it on antutu? Is this test from the iPad air?
S
5000mAh battery s20 ultra at 1080p 60Hz still got beat by iPhone 11 Pro Max LOL: https://www.phonebuff.com/battery-test "Premium 120hz" :'D LOL!!!! 120hz is no excuse for crappy android battery. :) And even in GSMArenas battery tests and benc...
A
Speed tests all over YouTube. Not sure which speed test are you watching. Must be the biased ones. And 4000mah battery giving same performance as iPhone. Don't need 6000mAh batteries. The only reason iPhone gives slightly more SOT is coz it ...