iPhone 13 Pro teardown reveals 3,095mAh battery and Qualcomm X60 5G modem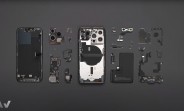 Just as the iPhone 13 series has officially gone on sale, Chinese tech blogger WekiHome released a teardown of the iPhone 13 Pro. The video details all major components in this year's small Pro model and we get to learn it's battery capacity is exactly 3,095mAh.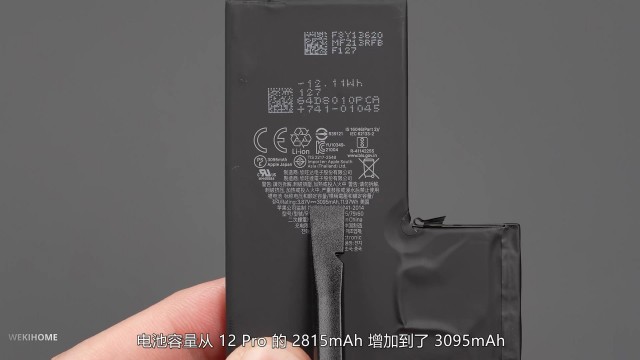 iPhone 13 Pro battery (source: WekiHome)
This is a sizeable gain compared to the 2,815mAh cell on last year's iPhone 12 Pro and Apple did say the new model should last up to 1.5 hours longer on a single charge compared to its predecessor. The battery is L-shaped this time around and is made by Sunwoda Electronic Co.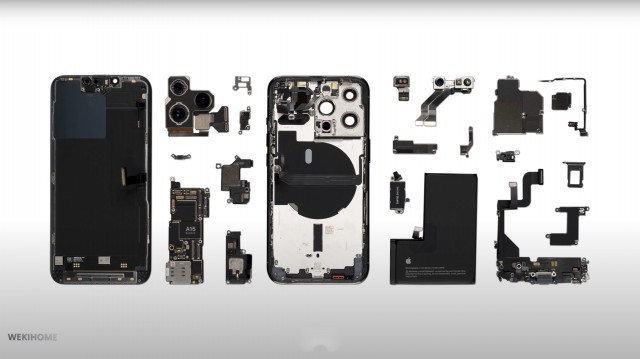 iPhone 13 Pro completely dissembled (source: WekiHome)
As a whole, the innards of the 13 Pro are not that different from the 12 Pro though there are plenty of adjustments. Another interesting bit is the 120Hz screen supplied by Samsung. The Korean tech giant is also the main supplier for RAM while Japan's Kioxia is responsible for the flash memory. Apple also updated the 5G modem to Qualcomm's X60 and is utilizing a slightly smaller Taptic Engine this time around. Check out the full disassembly in the source link below.
Source (video in Chinese)
d
i bought iphone becos my gf has one and she insisted we use the same phone.. lol.. but eventually she finds me using my android phone more than iphone becos it suits my demand better. But for her, there is no need for android. She uses phone for came...
B
That is truly hilarious. The only way Android is an upgrade (in any sense of the word) is if you buy a new Google phone every year.
?
My smartphone main use is to make and receive all sort of calls. I have two smartphones a iPhone 12 and a Samsung Galaxy A71. There are advantages on both. The A71 is not a flagship, but for video calls it's battery lasts much longer. If you use...
ADVERTISEMENTS