Twice the hype
iPhone 3G review: Twice the hype, half the novelty

Camera still not up to scratch
There is only one change to the iPhone 3G camera and, sadly, it's not video recording, folks. It's geotagging instead, courtesy of the built-in GPS receiver.
The camera still lacks any settings at all and you'll be oftentimes struggling with the touch screen shutter button.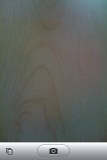 The over-simplified camera interface with the virtual shutter and a shortcut to the image gallery
We went for an impromptu shootout between the iPhone 1G and the iPhone 3G despite the fact that Apple never promised an upgrade of image quality. And indeed, we can't really spot any. However, having two iPhone 1G and two iPhone 3G at our office we spotted a huge differences in terms of image quality from unit to unit (and we are not speaking generations here). The image faults primarily concern poor lens quality and we suspect the front glass element on the back panel to be the culprit.
Here are several camera sample from a iPhone 3G unit (excellent image quality for a 2 megapixel snapper):
And here are several samples from our other iPhone 3G unit that seems to have severe lens issues (we found the same defect in one of our iPhone 1G units as well):
Web browser is even better now
The Safari browser on the iPhone still provides unmatched mobile web browsing thanks to its supreme page rendering, responsive interface and multi-touch controls.
With the iPhone 3G we now have faster speeds than before of course. The iPhone 3G packs HSDPA data transfers, so EDGE is sidelined. Performancewise, you would probably like to know that the actual page loading speed depends heavily on the page content. No seriously, we are talking HSDPA over EDGE comparison here.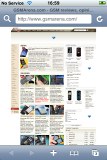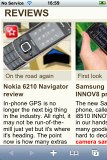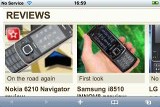 Opening GSMArena.com in the Safari browser • landscape browsing is available too
For iPhone optimized websites where there are not that many graphics and not much content as a whole, browsing over HSDPA and EDGE is pretty much the same in speed. However when it comes to web browsing of full-featured desktop targeted websites with a lot of graphics, HSDPA clearly wins - it's usually at least twice as fast - just as advertized.
Another change to the Safari browser is the image download feature - if you want to download an image, you just need to press-and-hold and a new pop-up appears that allows you to download it to your Camera Album.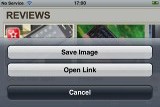 Saving an image is a piece of pie
Next up, inline embedded YouTube videos show up just as they would on a desktop browser. If you tap on one, it opens full screen in the YouTube application. That's really nice, indeed.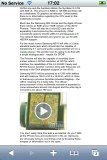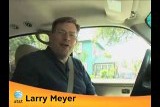 Inline YouTube videos show up as intended • they still play in the YouTube video client though
Typing passwords is the next thing that has changed - instead of seeing only black dots in the password field, now you can actually see what characters you are typing for a second or two before they turn to black dots again. We guess that would minimize password typos.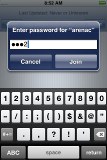 You can see the last character you typed in the password field
And finally, that useful .COM key on the virtual keyboard that appears when you are entering a web address is even better now. A longer press on it, brings up a choice of other common domain extensions to choose from - such as .net, .edu, and .org.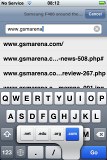 Several other popular domain extensions are available for easier input
No change in the pre-installed applications except for…
The Calculator is the only application that has received a facelift - it's not a regular facelift though. It's a scientific one. With the latest iPhone software, turning your handset to landscape mode when the Calculator is switched on, brings up the scientific layout that allows you to do that much more.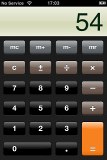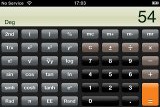 The scientific calculator might be useful to some
GPS road test
The built-in GPS receiver is among the major updates in the iPhone 3G. While there still isn't any turn-by-turn navigation app available, it's still good for pinpointing your exact location on Google Maps, geotagging your photos or using any location-based service through some of the many applications in the AppStore.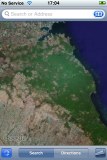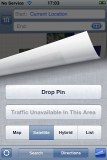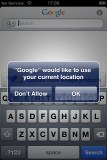 Google Maps now use the GPS to pinpoint your location • other apps can use the GPS too
Of course, you can turn off the GPS in order to save battery when you just want to use Google Maps as an electronic map, for example. An interesting fact is that the GPS receiver is also able to turn itself off automatically if you stay at one location for too long.
We are generally pleased with the GPS performance - it's fast thanks to AssistedGPS technology, which downloads satellite data automatically, and it's accurate even in dense urban areas.
Here's an AT&T GPS demo video that pretty much sums up the way the GPS signal is used by Maps: