Well, yesterday we cheered about the new iPhone 3G - it failed to deliver on all asking points just as the first-gen one, but still there's no better device on the market at the price point of 199 US dollars. Now today after things cooled down, our agitation slowly made room for some sober view on the current pricing and availability prospects.
Update: No more guessing, folks. There will be a source for black market 3G iPhones because there will be some carriers that will sell it contract-free with pre-paid cards. Vodafone Italy have announced their iPhone 3G prices with pre-paid cards (no contract, no monthly fees). The iPhone 3G 8GB will retail at 499 euro, while the iPhone 3G 16GB will cost you 569 euro. Well, tables have finally turned and it seems Europe (instad of USA) will be the place to get your black market iPhone now.
For legit owners the new iPhone sounds like a great buy - but in fact it's much the same as the last deal Steve Jobs threw at us last year.
In USA the iPhone 3G has an initial price of 199 US dollars plus you get to pay 30 US dollars for the 3G data plan, which is 10 US dollars more than the 2G data plan. So essentailly for 24 months the 10 US dollars premium amounts to a total of 240 US dollars. If we add to that the 199 US dollars initial price it actually turns out that the iPhone 3G is not more affordable than the firts-gen iPhone but it will even cost your 40 US dollars more in the long run. Those 40 US dollars sound nice fo the added 3G and GPS - but it's not our point. We just wanted to show you that you should always take Steve Jobs words with a pinch of salt.
But we should take into account that those prices will be valid worldwide - meaning European users will actually get the iPhone 3G at a much better deal than before.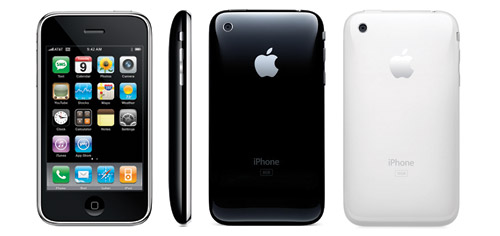 It seems that the revenue sharing scheme between Apple and the carriers is finally over. We even suspect that Apple get their full price for the iPhone - it's the carriers that do all the subsidizing and they are the ones that will take care of getting some cash in return.
All purchases from now on are subject to 24-month or 18-month contract with the carrier plus there's the in-store activation (even Apple stores, yes).
So you just can't possibly walk in, grab yourself an iPhone and then use it with another carrier (after some proper jailbreaking and unlocking that is). As it seems, things are not looking good for the black market.
It's estimated that millions of the first-gen iPhone have reached black markets world wide. It was a thriving industry and it was all supported by one thing - Apple Stores offered the iPhones without the need to sign a contract in the store itself. Instead, the contract was signed on your home computer via iTunes - black market iPhones never went through that process.
All that has changed now - that means the price of the iPhone 3G on the black market would soar through the ceiling.
That's because in order for the black market to get even a single iPhone, somebody has to sign up with a carrier and pay the monthly contract fees.
And worst of all, there is no commitment-free price that would allow you to get the handset for slighly more bucks but totally contract-free.
Speaking of contract fees, AT&T in USA and O2 in UK have already made their iPhone plans available.
AT&T will be offering the iPhone with its standard voice plans, which start at 40 US dollars. Additional 3G data plan is needed in order to make use of the 3G/HSDPA internet browsing - those plans start at 30 US dollars. So in US you are looking at 1680 US dollars minimum additional fees just to enjoy the iPhone 3G. If those 3G plans are optional, then it's 960 US dollars. Add to that the 199 US dollars initial price and you are all set with a Black market-ready 1200 US dollars iPhone 3G 8GB.
But let's take a look over to the Old Continent. O2 UK will be selling the 8GB iPhone 3G for 99 GBP and the 16GB iPhone 3G for 158 GBP. Those prices exactly match the overseas price tags in US.
Good enough! But let's take a look at the O2 monthly plans. The lowest tariff plan will set you back 30 GBP a month (around 60 US dollars) for an 18-month contract. That accounts for a black market iPhone price tag of around 640 GBP or 1280 US dollars. Now that is a lot of money - more than anything a SIM-free high-end handset by any other brand would set you back.
O2 have gone even further and are offering the iPhone 3G for free to customers who sign up with their premium plans which start at 45 GBP (or a total of 1080 GBP for 18 months).
We suppose that now you get the whole picture - if you happen to live in one of the countries that will offer it legit, the iPhone 3G will most likely be a nice deal. A black market iPhone will most probably be wickedly expensive.
C
heyy Can I just buy an iPhone for 199$ nothave it activated or pay for 3g and use it on wifi like an iPod touch? Essentially it would b a touch with a camera
J
I have only 1 question: Could iPhone b used in Serbia ? pleeease answer me this 1 !!!!! Thanks !
S
OK. Everybody got some thinking about price for iPh 3G. What about this?!...iPhone 3G Serbia 600 euros for 8GB and 16GB for 750 euros!! Don't make conclusions in front. At the moment there is a lot of dust in the air. Just be patient. This is only ...
ADVERTISEMENTS