Apple were quite keen on emphasizing that the new iPhone 3G S was twice as quick as the original iPhone 3G the other day, but they never mentioned the actual specs of the chipset. Luckily details are starting to appear now and it gets clear that the iPhone 3G S packs a powerful 600 MHz ARM Cortex A8 CPU and a PowerVR SGX graphics accelerator.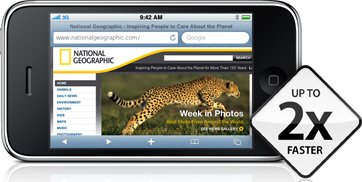 Providing a worthy hardware upgrade over the 412 MHz CPU of the iPhone 3G, the 3G S also packs double the RAM of its predecessor (256MB compared to 128MB on iPhone 3G). Also the CPU of the iPhone has received upgrades in more than just speed. The new core manufacturing process is now 65nm instead of 90nm and has put on more L1 cache, bringing along some L2 cache as well.
The iPhone 3G S comes with double the L1 cache of its predecessor and also introduces 256KB of L2 cache, which isn't supported by the ARM11 CPU of the previous gen iPhones. The GPU has been upgraded too and now the iPhone 3G S comes with PowerVR SGX instead of the much toned down PowerVR MBX-Lite. This accelerator can theoretically give some 600% increase in geometry performance and a 150% increased fill rate.
Unfortunately, the lower specs make the original iPhone 3G unable to support the OpenGL ES 2.0 graphics API, which will come with the iPhone 3G S. That will give the developers a headache as they have to make their apps support OpenGL ES 1.1 and OpenGL ES 2.0 if they want to get better performance on the iPhone 3G S and backwards compatibility with the original iPhone 3G.
?
of course recording HQ Video (without lag and high res) need sufficient RAM..stop digrace urself ok..i studied computer science i know all of these..
?
N i suppose you know 40 languages??
?
I don't know where you live, I live in HK, where our lowest monthly fee (from 5 carriers within a 40 sq mi radius) costs about US$4...yes US$4, for about 500+ mins, and 500 internetwork SMS and unlimited intranetwork SMS. I know my mom and my pa...
ADVERTISEMENTS