What comes after iOS 4.0? Nope, it's not the iOS 4.1 but the iPhone 4.0.1 software update which has just been released by Apple. It comes along with some bug fixes as well as the highly discussed improved signal strength formula that is expected to magically solve iPhone 4's reception issues. Meanwhile, the iPad got a software update too - taking it up to iOS 3.2.1.
Everyone, even remotely interested in mobile phones, will tell you that iPhone 4 reception issues aren't caused by software bugs but are a result of the phone's faulty hardware. However, Apple are still mum on that matter (maybe today's conference will shed more light on the real problem and hopefully will offer some kind of solution).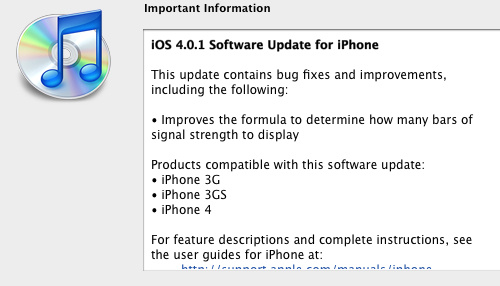 Well, you can at least enjoy the "improved" formula that tells your iPhone how many bars of signal strength to display. There are also some other bug fixes brought by the iOS 4.0.1. The iOS 4.0.1 is only compatible with iPhone 3G (though that doesn't work particularly well), iPhone 3GS and the recently launched iPhone 4.
As for the iOS 3.2.1 software update for the iPad, the list of updates it brings is a bit longer. 3.2.1 is said to improve the Wi-Fi connectivity, stutter-free videos playback and video-out functionality will be more reliable (when using an iPad dock connector to VGA adapter).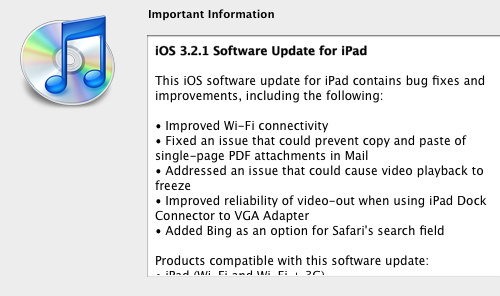 Next up is the fix that should enable copying and pasting of single-page PDF attachments in Mail. Last but not least is Bing search option, which has been added to the Safari browser.
To get the latest iOS version just plug your iPhone or iPad to the computer and let the iTunes software do the rest.
G
Does the 4.0.1 update work any better on the 3G than the 4.0? I really regret update my iPhone since it took a huge hit in performance. Unless 4.0.1 addresses these, Iʻm rolling the clock back to the 3.0 realm.
ADVERTISEMENTS