The Apple iPhone 4S is yet to start shipping but someone already managed to get their hands on one. And as you can expect a camera sample image and some benchmark scores have been posted online for our viewing pleasure.
We'll start with the browser benchmark. The benchmark being used here is BrowserMark, a popular benchmark that we, at GSMArena, use to test and compare our phones. The iPhone 4 had managed to get a score of 51,701 while running a GM beta version of iOS 5. The popular Galaxy S II, with its dual-core Exynos processor, managed to get a score of 55,144, which was the highest so far for any smartphone.
Now this is where the iPhone 4S comes in. The Safari browser running on iOS 5 and the dual-core A5 processor managed to obliterate the competition with a score of 89,567. No matter which side of the camp you may be, you cannot deny that it is an incredible score.


Apple iPhone 4S BrowserMark result compared
We also got a Sunspider JS Benchmark score from the iPhone 4S, which probably explains the BrowserMark result to a point. The latest Apple smartphone got the best result of any smartphone to date, while its iPhone 4 predecessor came in second. Safari on iOS5 obviously has the best JavaScript engine by some distance.


Apple iPhone 4S SunSpider JS Benchmark result compared
Still the processing power advantage of the A5 SoC over its A4 predecessor is there for everyone to see. Using identical browser for the same test, the iPhone 4S is nearly twice as good as its predecessor.
What's even more exciting is the Apple iPhone 4S GPU, which also got benchmarked ahead of the release of the smartphone. Its performance advantage over the GPU used in the iPhone 4 is 7 to 8 times, which is really stunning and matches Apple's claims.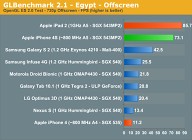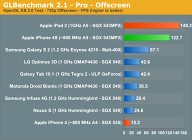 Apple iPhone 4S GPU benchmarked
Now moving on to the camera sample, we get a single indoor shot of a one dollar bill. The image looks crisp with good amount of detail and very little noise despite being in less than ideal lighting conditions.
So far so good. We can't wait to get our hands on a retail unit so we can put it through its paces ourselves and see how it compares against its rivals.
a
Hello everybody , i have a question; how much is iphone 3gs¿ but 4s without contract??
?
The sunspider benchmark doesn't say anything about the hardware. It tells you how well the java-interpreter works. So it's useless for benchmarking.
v
Hahaha Samsung is trying to catch up but even they are soon releasing devices equipped with 2GHz dual-cores an ~800MHz dual-core 4s can beat them into the ground! Apple=Quality
ADVERTISEMENTS