A familiar rumor is back - the new confirmation coming from KGI analyst Mingchi Kuo, who is said to have sources close to Apple's supply chain.
The next incarnation of the Apple iPhone could turn up with a 4.08-inch display of 1136 x 640 resolution, 16:9 aspect ratio and a brightness of 500 nits (matching the iPhone 4S). This, despite not technically being HD worthy, would result in a density of good 319 pixels per inch, preserving the Retina moniker, and moving away from the familiar 3:2 aspect.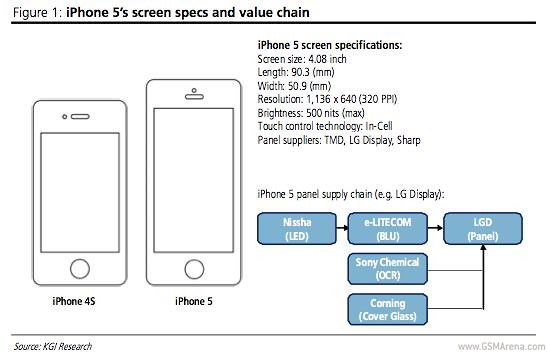 Mingchi Kuo also has info on the cameras and thickness of the iPhone 5, saying that the front-facing camera will be HD-capable, making those FaceTime calls all the sweeter, and that the camera will be moved from the left side of the earpiece to the center (much like on the iPod Touch).
The back camera will reportedly have 8 MP sensor and a 5 element lens similar to the 4S but with a larger aperture of f/2.2 (currently f/2.4). That would allow more light to reach the sensor and improve the low-light performance.
As for the profile, Kuo claims that the next iPhone will measure the impressively thin 7.9 mm, which is a huge improvement over the iPhone 4S's 9.3 mm.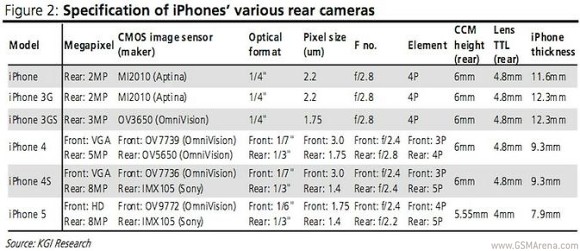 The bigger display bit is probably the most persistent of all iPhone 5 rumors, only this time the said screen size isn't 3.9" but 4.08". However, altering the screen aspect ratio might lead to poor backwards compatibility with apps, which have been developed for the 3:2 aspect ratio of all iPhones to date.
Still the width of the screen, if this rumor turns out true, will remain 640 pixels, which is the same as the current iPhone 4S and iPhone 4, meaning apps could run just fine with blank bars on each side until their developers get round to adapting them.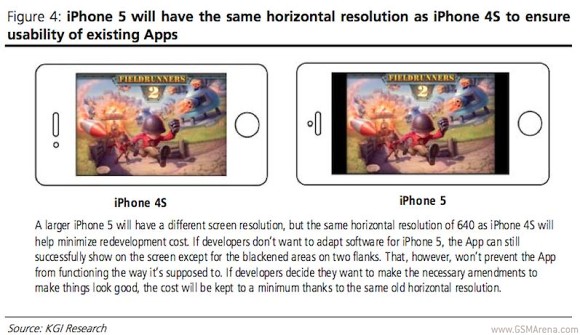 The next iPhone, or iPhone 5, is rumored to arrive in the fall, in either September, or as was the case last time, October. As always there are a bunch of rumors surrounding it, one pointing at an aluminium back and larger screen. We're less than a week away from finding out what this year's WWDC conference in San Francisco and iOS 6 will bring. There might be some clues for the specs of the upcoming iPhone 5.
r
Chill. its not yet out.. its jus an assumption. Assumption is the mother of all fuckups :D
t
So you only care about the screen size and not the total phone size? so uyou prefer a monitor that only takes up 60% of the phone size instead of a smaller phone with 80% screen. Then I recommend the old phones with 1" screens but with same dime...
ADVERTISEMENTS