All rise
Apple iPhone 5 vs. Samsung Galaxy S III: All rise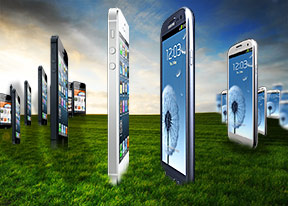 Display comparison
The Samsung Galaxy S III and the Apple iPhone 5 both have 16:9 screens and both are bigger than those of their predecessors, but that's where the similarities end.
The Galaxy S III has a 4.8" Super AMOLED display of 720p resolution and Gorilla Glass 2, while the iPhone 5 has a 4" IPS TFT display of 640 x 1136 resolution and Gorilla glass.
Let's concentrate on the size for a moment. The S III screen has 44% more surface area, so while the difference in diagonals is only 0.8", it makes a huge difference in usability.
The extra size comes at the price of sharpness - while the iPhone 5 has a slightly lower resolution, its pixel density is 326ppi (same as on the 4 and 4S), while the Galaxy S III has 306ppi.
There's more to it than that, however. The iPhone 5's screen has an RGB matrix, while the Super AMOLED on the Galaxy S III is PenTile with only two sub-pixels per pixel. The following macro shots taken under a microscope should help illustrate the difference.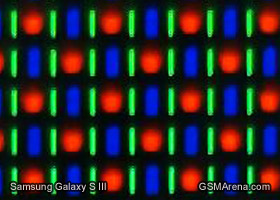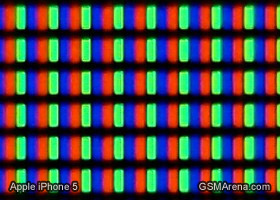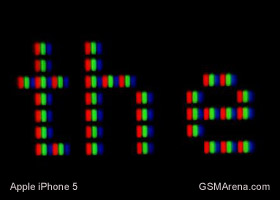 Let us explain what's going on - the second set of images is of white text on a black background with lines 1px thick. To make white you need all three of the primary colors (Red, Green and Blue), but since the PenTile only has two of those for each pixel it needs to "borrow" subpixels from neighboring pixels.
So, a 1px thick white line on the Galaxy S III becomes 1.5 px wide (three sub-pixels total, each pixel is 2 sub-pixels wide). This is an extreme example, of course, but it does affect sharpness in real-life usage too.
To the naked eye, the differences are less apparent but they are still there. If you know what to look for, you can spot the crosshatch effect of the PenTile matrix, but you probably won't notice it in daily use.
The viewing angles on both screens are great, but if we had to nitpick the iPhone 5 shows very slight contrast loss while the Galaxy S III starts showing a blue-green tint. Those things are really only noticeable at extreme angles and even then not much.
As for colors, the Super AMOLED screen shows more saturated colors, which is a blessing or a curse, depending on who you ask. You do have an option to control the saturation, so we're willing to go with blessing. The iPhone 5's color rendering is excellently accurate, which is pretty great, but in some cases it's not as punchy as the Galaxy S III.
Other important considerations are the brightness and contrast of the display, which strongly affect the viewing experience. Combine that with the reflectivity of the screen and you get the sunlight legibility, which is very important for devices that are much used outdoors.
The iPhone 5 scores two victories - it's brighter, pushing out almost twice the lumens as the Galaxy S III and it is better under direct sunlight. The superior brightness is no surprise - LCDs are typically brighter than AMOLEDs. However, AMOLEDs usually offer better sunlight legibility, so topping the Galaxy S III is a big win for the iPhone.
Display test
50% brightness
100% brightness
Black, cd/m2
White, cd/m2
Contrast ratio
Black, cd/m2
White, cd/m2
Contrast ratio
Apple iPhone 5
0.13
200
1490
0.48
640
1320
Apple iPhone 4S
0.14
205
1463
0.52
654
1261
Apple iPhone 4
0.14
189
1341
0.39
483
1242
Samsung I9300 Galaxy S III
0
174
∞
0
330
∞
Samsung Galaxy Note II
0
253
∞
0
478
∞
HTC One X
0.15
200
1375
0.39
550
1410
Don't get us wrong, those two are in the Top 3, coming behind only the Nokia 808 PureView, and are two of the best screens we've tested yet.
Contrast ratio
Nokia 808 PureView
4.698
Apple iPhone 5
3.997
Samsung I9300 Galaxy S III
3.419
Samsung Omnia W
3.301
Samsung Galaxy S
3.155
Nokia N9
3.069
Samsung Galaxy Note
2.970
HTC One S
2.901
Samsung Galaxy S II
2.832
Huawei Ascend P1
2.655
Nokia Lumia 900
2.562
Apple iPhone 4S
2.269
HTC One X
2.158
Nokia N8
2.144
Apple iPhone 4
2.016
Sony Ericsson Xperia ray
1.955
Sony Xperia T
1.894
Sony Xperia U
1.758
LG Optimus G
1.753
LG Optimus 4X HD
1.691
HTC One V
1.685
LG Optimus Vu
1.680
LG Optimus 3D
1.542
Nokia Asha 302
1.537
Nokia Lumia 610
1.432
Gigabyte GSmart G1355
1.361
HTC Desire C
1.300
LG Optimus L7
1.269
Meizu MX
1.221
Samsung Galaxy Pocket
1.180
Sony Xperia tipo
1.166
Samsung Galaxy mini 2
1.114
Where the Galaxy S III wins by default is contrast - it's theoretically infinite as the black levels are 0. However, with a 1000+ contrast for the iPhone 5's screen, the practical difference is very small (unless you're in a dark room, so there are no light sources to reflect off the screen).
As far as image quality goes, both are great but overall the iPhone 5 has an edge.
Image quality is only one variable in the equation though - screen size is very important as well. The Galaxy S III display dwarfs the iPhone 5 one and makes it pale in comparison by the virtue of its sheer size. It offers a lot more room, which is great for web browsing, gaming, watching videos and whatnot. The smaller screen may have helped the iPhone 5 is the previous chapter as it allowed it to remain far more compact, but it lets it down here.
The screens indirectly affect another aspect of the two phones that we'll cover next - battery life.
Winner: Samsung Galaxy S III