All rise
Apple iPhone 5 vs. Samsung Galaxy S III: All rise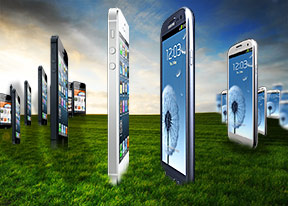 Video playback
As far as video playback is concerned, it's hard to disagree that (screen) size does matter and the bigger it is, the better the experience is. The Samsung Galaxy S III not take a huge advantage of its 4.7-inch Super AMOLED display, but also builds on top of it with one of the best default mobile video player apps we've come across.
It's clear that Samsung developers have really put a lot of effort in this one. It supports virtually every video format you can think of (even in FullHD), starting with the basic .WMV and .AVI (XviD and DivX) going through more demanding H.264 (and H.263) and .MPEG4 and finishing with the open-standard VP8 (WebM). The Galaxy S III doesn't break a sweat with large files either.
Once you start playing a video, you can choose between three view modes (original, full screen and fit-to-screen). However, this only scratches the surface on the things you can adjust - video brightness, color tone, play speed and toggling outdoor visibility on or off. The video player also benefits from Samsung's SoundAlive audio-enhancing technology.
The Samsung Galaxy S III also made a good impression when it offered a list of subtitles and let us pick. Most video players don't bother and just look for a file with the exact same name as the video file (save for the extension).
As for the default video player iOS 6 is packing on the iPhone 5, things aren't so rosy. Granted, with its 4-inch screen boasting an aspect ratio of 16:9, watching videos is far more enjoyable than on any of the previous iPhones, but video format support is extremely limited. DivX and XviD videos are a no-no, and don't count on .WMV playing either. To play those, you can have iTunes convert them beforehand, which is a bit tedious.
As for options for video viewing, the iPhone 5 video player offers fit-to-screen and full screen modes. There aren't color tone adjustments. Also, don't count on subtitle support, unless the subtitles are built into the video file itself.
It's worth mentioning the list view modes both video player apps have to offer. Samsung has overdone themselves in this aspect and as a result the Galaxy S III offers you grid, list, folders and nearby devices view modes. The grid view is the most eye-catching as it creates video thumbnails that actually preview the videos they represent, instead of showing static images.
Compared to the Galaxy S III, the iPhone 5 simply offers you a uninspired list of videos.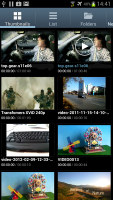 Video thumbnails on the Galaxy S III are cool
There's even more to the Galaxy S III video playback capabilities. Pop up play feature enables you to watch a video in a small floating window that stays on top of other apps, which you currently use. Finally, the chapter preview breaks down a video in several; scenes and shows a rectangular grid, with live thumbnails (just like the grid view we mentioned).
Another easy pick - the Apple iPhone 5 gets blown away by its competitor here. The only arguments it has on its side are the slightly longer battery life and the tiny bit more accurate colors, but it remains a distant second.
Winner: Samsung Galaxy S III
Audio playback and audio quality
In the history of tech companies, there are very few ones that can match the expertise of Apple when it comes to audio playback. Ever since the guys at Cupertino launched the first iPod back in 2001, they've been constantly refining and enhancing the experience of its audio players. The culmination of those 11 years of constant refinement is packed in the iPhone 5 and its Music app (formerly known as iPod).The interface is polished, simple and so straightforward that an infant could use it.
The Music app on the iPhone 5 enters funk mode once you flip the phone into landscape, initiating Cover Flow. It lists all the albums from the library - a tap on an album thumb lists all the tracks in it.
Once you choose a song, the player brings up the Now Playing screen. It's clean in design and packs all the controls you'll ever need when dealing with music. There are also other notable features such as an equalizer with presets, playlists and different sorting modes (artists, songs, albums. genre, compilations or composers).
Samsung Galaxy S III's music player doesn't beat around the bush either and sports the same array of features like the iPhone 5's. Where it manages to differ and get an edge is the Music Square feature, which automatically rates a song as exciting or calm, passionate or joyful and plots those songs on a square (hence the name). From here, you can highlight an area of the square and the phone will automatically build a playlist of songs that matches your selection.
The TouchWiz Music app also boasts Samsung's SoundAlive technology with 7.1 channel virtualization.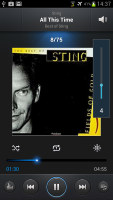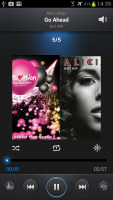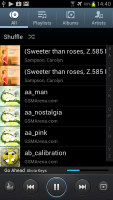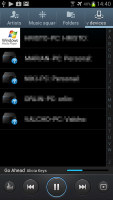 The Android music player has benefited greatly from the TouchWiz UI
As with any iPhone, there are three ways to manage your music - on a computer with iTunes, direct purchase in the iTunes app on your iPhone, or iCloud sync (only with the more recent generations). On a computer with the iTunes software you can create playlists and sync them with your iPhone. It has to be one computer though - each new computer sync will overwrite your old music library.
If you buy songs directly on your iPhone (via the iTunes Store), you can either sync them with your computer or download them again when you log in with the Apple ID you bought them with. The third way is the iCloud. If your Music sync is turned on, then you can always download your music library (whatever the reason - restore, new device, deleted, etc.), which is really handy.
Samsung has developed its own ways to let users acquire and manage their music. The Kies software is Samsung's direct answer to Apple's iTunes and follows the same recipe.
On of the Kies key features is Wireless Sync, which uses Wi-Fi to sync the music, photos and videos on your smartphone. Mind you, you'll need to install the Samsung Kies app on the Galaxy S III for that to work.
Of course, while using iTunes to set up and upload media to the iPhone is obligatory, you don't really need Kies, as the Galaxy S III has Mass storage. This means uploading your music with simple copy&paste from your computer. Still, if you want to organize it through a program, Samsung enables you to do so.
Just like Apple, Samsung is also having its very own music store dubbed Music Hub, where you can purchase from over 19 million songs and upload your existing music to the cloud. This allows you to stream it to your device and listen it on the go. And while not strictly a Galaxy S III feature we'll mention that the Google Play Store is also an alternative, when it comes to purchasing music, TV episodes and movies.
Both the Samsung Galaxy S III and Apple iPhone 5 music players have great file compatibility and support most formats out of the box. Great quality .mp3 files with high bitrate are not problem for the flagship devices.
However, the iPhone 5's music player doesn't get along very well with FLAC files, so you'll need an (often paid) alternative app to play them. The Galaxy S III on the other hand handles those trouble-free.
The Apple iPhone 5 and the Samsung Galaxy S III are quite evenly matched in terms of audio quality, too. The Samsung smartphone has slightly better stereo when used with an active external equalizer, but the rest of the readings are basically identical.
We would still give the nod to the iPhone 5 here, as it's output is slightly louder than that of the Galaxy S III. We have to admit that the gap isn't as big as it was on the iPhone 4S and the Galaxy S II, though.
Check out the numbers and see for yourselves.
| | | | | | | |
| --- | --- | --- | --- | --- | --- | --- |
| Test | Frequency response | Noise level | Dynamic range | THD | IMD + Noise | Stereo crosstalk |
| Apple iPhone 5 | +0.06, -0.51 | -91.3 | 91.3 | 0.0015 | 0.0093 | -76.5 |
| Apple iPhone 5 (headphones attached) | +0.00, -0.26 | -90.6 | 90.6 | 0.0035 | 0.111 | -56.2 |
| Samsung I9300 Galaxy S III | +0.03, -0.05 | -90.3 | 90.3 | 0.012 | 0.018 | -92.6 |
| Samsung I9300 Galaxy S III (headphones attached) | +0.11, -0.04 | -90.2 | 90.2 | 0.0092 | 0.090 | -53.1 |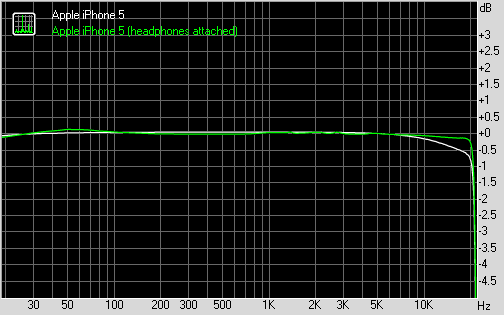 Apple iPhone 5 frequency response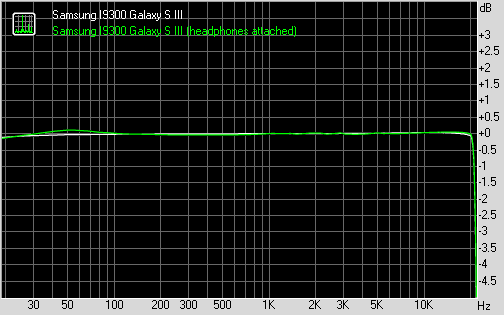 Samsung I9300 Galaxy S III frequency response
Winner: Apple iPhone 5