Stuart Hughes, a Liverpool-based jeweller had earlier built a diamond iPhone 4, Platinum MacBook Air and Gold iPad 2. Now, the enthusiast has built an iPhone 5 with gold and diamonds, making it the world's most expensive smartphone.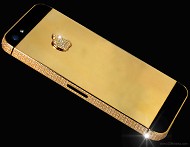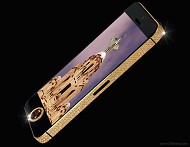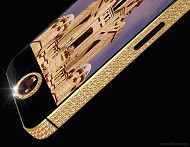 The iPhone with gold and diamonds
According to the designer, the custom made iPhone 5 took him 9 weeks to build and the complete device has been made by hand. The outside casing of the smartphone is said to be made up for 24-carat gold, while the home button consists of 26-carat black diamond.
The Apple logo and the corners of the smartphone are built using the white diamonds. The device is encrusted with 600 precious stones, out of which, 53 are housed in the Apple logo at the back. The world's most expensive smartphone was ordered by a Chinese based businessman, who owns the black diamond that went into the construction.
The special luxuries edition of iPhone 5 costs £10 million (about $15.3 million). However, there are simpler versions of the device too, which is made of gold and goes for the much easier to swallow $33,800.
A
world's best looking i phone
ADVERTISEMENT