We all know that the upgraded iPhone 5 is just around the corner and a leaked internal document from a Japanese carrier reveals that the next generation iPhone will be announced on June 20 and will be available in the stores by July.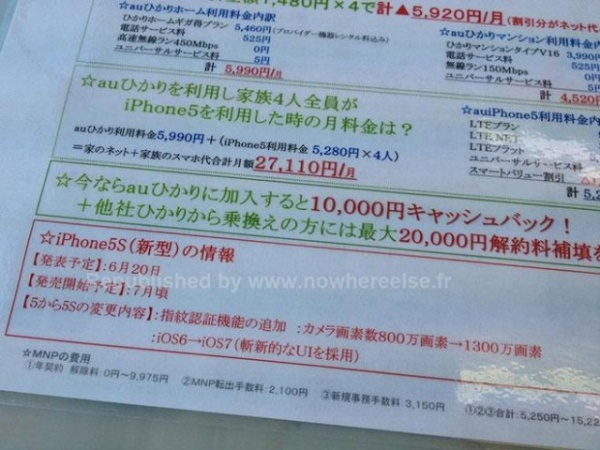 The leaked document also suggests that the iPhone 5S (as it is referred to in the document) will run on the upcoming iOS 7 operating system and that the camera on the back has been upgraded to 13 megapixels from the 8 megapixel unit on the iPhone 5.
The Apple iPhone 5S is rumored to have a 2 megapixel front shooter with the ability to record full HD videos. The device is also said to have dual-shot functionality in camera, currently seen on LG and Samsung phones but a first for an iPhone.
The reliability and the accuracy of the document are in question, so we suggest you take this information with a pinch of salt.
D
Since iPhone 3 came out, I loved everything about the It. Prior to that I was an an absolute Nokia freek. So after the iPhone 5 and still no descion of when the iPhone 5s is to be released I purchased the Nokia 920 Lumia. Now I realise I have windows...
?
I think you're lying to try & make yourself look clever for owning an android phone. I've just tried exactly that on my quad core galaxy S3 & it froze until I pulled the battery out. You don't look big or clever by making stuff up t...
B
This is clearly a forged document the S on the end of iPhone 5 has been clearly photoshoped if you look close the red colour of S is a little dark and iPhone 5S is only written in the last paragraph on the other places iPhone 5 has been mentioned.
ADVERTISEMENTS