SIM-free iPhone 6 and 6 Plus units have been available in Europe since last year, but now US-based Apple fans can grab one too.
If you want to avoid carrier plans – and subsidies – you'll have to shell out $650 for a 16GB Apple iPhone 6. The iPhone 6 Plus starts at $750. Note that there's an T-Mobile uncarrier version for the same price but you don't have to get it if you truly want no carrier strings attached to your phone.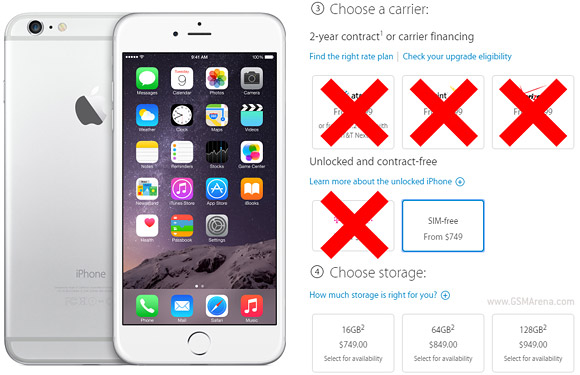 Anyway, you know the formula – each storage bump is $100, making the top of the line 128GB iPhone 6 $850 and the iPhone 6 Plus with the same storage $950.
D
So buy one! Go to this address. www.samsungcandyshoptoys.com. There is plenty toys to choose from Peace
?
Beautiful design?? Do you mean the poo stripes on the back, the huge bezels or maybe the protruding camera? Yes they are very beautiful.
F
in Pakistan, there is no minimum wage in reality (well it's there in budget/constitution) but any way, starting salary for illiterate to Graduate/Masters is 120$/month and an iPhone 6+ 128GB is around 1200$!!! P.S: look at less privileged to fee...