Dredging up a controversial issue from the past, Square Trade decided to redo Bendgate tests this time including the new Samsung Galaxy S6 edge and HTC One M9.
The phones were tested twice – once until they visibly bend and again until they are bent to their breaking point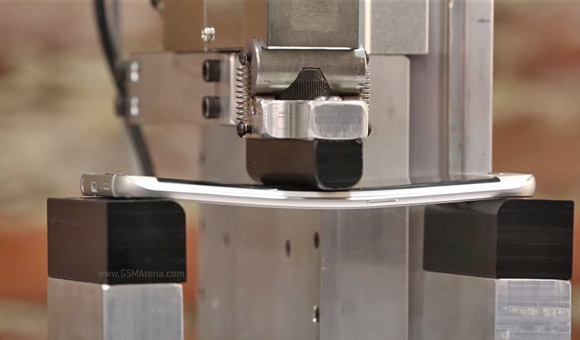 The Apple iPhone 6 Plus, the phone that kicked off Bendgate, was put under 110 pounds before it got deformed. It took the most pressure, 179 pounds, to break the Apple gadget.
The Samsung Galaxy S6 edge also bent at 110 pounds, though one of the curved sides of the display cracked. It's protected by Gorilla Glass 4, but the shape of the side makes it more susceptible to cracking. The S6 edge could still power on though so it was put in the press again until it broke at 149 pounds.
Finally, the HTC One M9 first bent at 120 pounds which was its undoing too. The Power button was moved from the top to the center of the right side, exactly where the phone bends (phones tend to bend at the side buttons). The One M9 could not power on after that.
Here's a table with the numbers for each phone:
| | | |
| --- | --- | --- |
| Phone | Bend weight | Breaking weight |
| Apple iPhone 6 Pls | 110lbs | 179lbs |
| HTC One M9 | — | 120lbs |
| Samsung Galaxy S6 | 110lbs | 149lbs |
D
No this test is false and just apple marketing to spread false and misleading information
D
Except S6 edge didn't bend at 110 pounds, were told it did. Also we were told it broke at 149 pounds not shown.
?
you are clearl the niave one who believes that apple conducted the test
ADVERTISEMENTS